Moscow Ballet to hold auditions in Plainfield
8/13/2013, 8:03 a.m.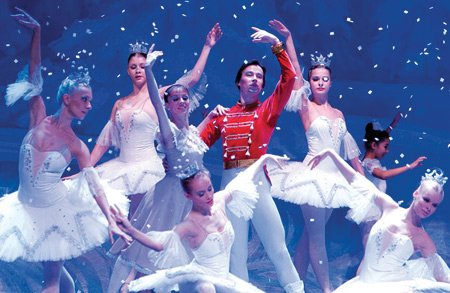 The Moscow Ballet will hold open auditions for talented young dancers ages 7 to 17 to perform in their annual Chicago production of "The Great Russian Nutcracker." Auditions begin at 4:30 p.m. on Friday, August 23, at Dance Quest, 14511 S New Van Dyke Rd., in Plainfield.
The audition is open to talented boys and girls ages 7 to 17 that have at least two years of ballet training and are no more than 5-feet-tall. Selected dancers will appear in ancillary roles alongside the full corps of Russian dancers in the Moscow Ballet's December 8, 2013, production of "The Great Russian Nutcracker" held at the Rosemont Theatre in Rosemont. A $10 audition fee and registration are required. For more information, call (773) 463-1220, visit www.southportarts.com or email anaska@southportarts.com.
The audition schedule is as follows: 4:30 p.m.: ages 7- and 8-years-old; 6 p.m.: ages 9- through 11-years-old; 7:30 p.m.: ages 12- to 17-years-old. Applicants must be dressed in ballet attire and bring pointe shoes if on pointe. A prepared piece will not be needed. All children auditioning must be able to commit to a rehearsal and performance schedule.
"Children play an important part in this time-honored holiday classic," said Southport Performing Arts Conservatory's Artistic Director Altin Naska who has overseen the Chicago-area open auditions and rehearsals for the Moscow Ballet's annual production of "The Great Russian Nutcracker" for the past seven years. "The opportunity to dance with professionals in such a high-profile event creates a lifetime of indelible memories for young dancers."
The Moscow Ballet's "The Great Russian Nutcracker" is the unique telling of the classic story of Masha (Clara) and her Nutcracker Doll told with true Russian flair. The whimsical fantasy of Moscow Ballet's "The Great Russian Nutcracker" is legendary with the piece firmly enshrined as a Christmas staple for audiences across the country and in Canada. Pytor Ilyich Tchaikovsky's beloved "Nutcracker Suite" and Moscow Ballet's company of 40 Vaganova-trained dancers are the perfect combination for a holiday celebration for all.