Morrissette elected Chairman to Silver Cross Hospital's Board of Directors
8/29/2013, 9:43 p.m.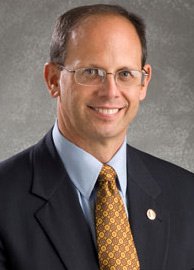 The Silver Cross Hospital Board of Directors recently elected Stephen G. Morrissette as Chairman.
With more than 30 years of experience in all facets of the financial industry, Morrissette is an associate professor of finance at the University of St. Francis in Joliet and an adjunct associate professor at the University of Chicago Booth Graduate School of Business where he teaches Merger & Acquisition Strategy. His expertise includes strategic planning, mergers and acquisitions, capital planning, credit analysis/process, as well as profit and performance improvement.
Formerly, he was Chief Executive Officer (CEO) of First Community Financial Partners, a bank holding company with $900 million in assets headquartered in Joliet. He was the founding CEO in 2004 of the lead bank, First Community Bank of Joliet.
Morrissette previously held several positions within BankOne including Senior Vice
President of Strategy of the Global Commercial Bank, Chief Finance Officer (CFO) of BankOne's middle market bank including American National Bank of Chicago, and CFO of First Chicago's retail bank. He joined BankOne when they purchased AmeriFed Bank, in 1995. Most of his banking career focused on transformation projects, especially through mergers and acquisitions.
His mergers and acquisitions experience includes over a dozen projects ranging from small deals with $10 million in sales to a full-time role on the First Chicago-BankOne executive merger integration team, one of the largest financial services mergers at that time. In his various CFO roles at BankOne Commercial Bank, American National Bank of Chicago, and First Chicago Regional Bank, he was also responsible for strategy, mergers and acquisitions and post-merger integration. He also served as head of Strategy & Planning for BankOne Commercial Banking.
He is a frequent presenter on mergers and acquisitions including a recent presentation at the McKinsey Annual Corporate Finance Conference and he has provided expert witness consulting on mergers and acquisitions related litigation in cases as large as $1.6 billion.
He serves on several bank, corporate, and non-profit boards. Most recently, he was a Trustee and Board Member at Silver Cross Hospital where he served as Treasurer. He currently serves on the hospital's Finance, Governance and Corporate Strategy Committees as well as the Steering Committee to create an Accountable Care Organization (ACO) and chairs the Finance Sub-Committee for that project.
He is a graduate of the Union Institute & University with a Doctorate in Entrepreneurial Finance. He also is a graduate of The University of Chicago earning a Master of Business Administration degree in Finance and Strategy. He earned a Bachelor of Science degree in Management Information Systems from the University of St. Francis, and a Bachelor of Arts degree in English Literature from the University of St. Francis. He resides in Joliet with his wife, Maureen, and their 4 children.
Morrissette joins 13 members of the Silver Cross Hospital Board of Directors. They are Jack Carlstrom, Mark Danielson, M.D., Douglas Hutchison Jr. (First Vice Chairman), Al McCowan (Secretary), David Mikolajczak, D.O., Scott Paddock, Paul Pawlak (President/CEO), John Phelan, Susan Prock, (Treasurer), James Roolf, Alexander Sosenko, M.D., Mark Stofan (Second Vice Chairman), and Mary Totten.