Lombard man charged with attempted murder in Bolingbrook
Squad car severely damaged after suspect rams into it
Rex Robinson | 12/12/2013, 11:14 p.m.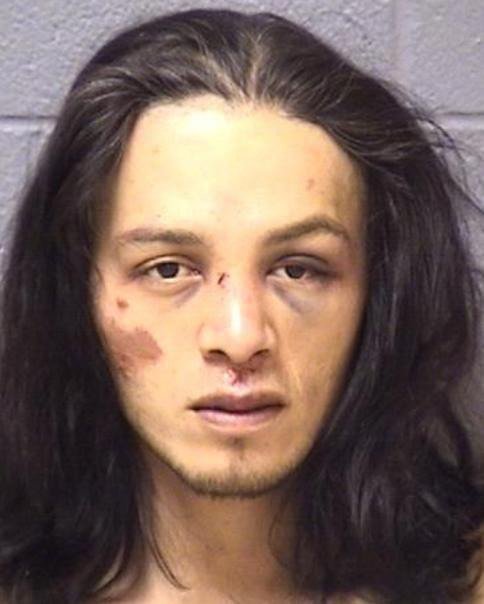 Bolingbrook police charged a 30-year-old Lombard man with attempted murder, fleeing and eluding, assault, aggravated battery, criminal damage to state supported property and driving under the influence at 8:45 p.m. Dec. 11.
Police responded to the 300 block of Lakeside in reference to a domestic disturbance with an ex-boyfriend attempting to make entry into the residence.
The caller supplied dispatchers with a description of the offender's vehicle, as it was leaving the area. The man was identified as Erik Granillo of Lombard. Officers located Granillo driving the silver Ford Focus and attempted to make a traffic stop. Granillo continued to drive without stopping and then drove to I-355.
Bolingbrook Officers had dispatchers notify Lombard Police in an effort to locate him.
Granillo then allegedly contacted the victim, a 23-year-old Bolingbrook woman, and informed her that was on his way back to the residence with a gun and he was going to shoot the victim and any police.
Bolingbrook Officers continued to monitor the neighborhood. A Bolingbrook officer was at the front door of the residence when he observed Granillo, driving at a high rate of speed, deliberately crash into the front of the unoccupied squad car, which was parked in front of the residence (Granillo believed the squad car was occupied by an officer, according to police). The impact pushed the squad off of the street and onto the front yard of the residence, as the offending vehicle came to rest on the street. Granillo exited his vehicle and officers attempted to place him into custody. Granillo fought with officers, a Taser was deployed and he was then secured.
Bolingbrook Fire Department arrived on scene and transported Granillo to Adventist Bolingbrook Hospital, where he was treated for minor injuries and released.
Two officers were treated and released for non-life threatening injuries. There was extensive damage to the squad car.
Granillo is being held at Will County Adult Detention Facility.