Black Bean and Veggie Enchiladas
7/30/2013, 12:58 p.m.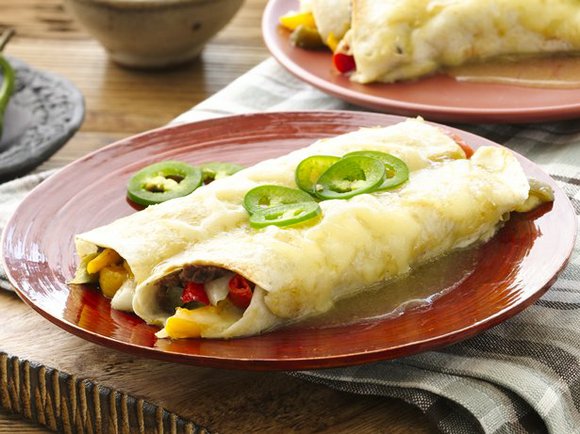 5 Servings
INGREDIENTS
1 can (10 oz) green enchilada sauce
1 bag (14.4 oz) frozen pepper stir-fry (with sliced green, red & yellow peppers & white onions)
1 can (16 oz) refried black beans or traditional refried beans
½ teaspoon ground cumin
½ teaspoon garlic salt
1 package (8.2 oz) flour tortillas for soft tacos & fajitas (6 inch)
1 ½ cups shredded Monterey Jack cheese (6 oz)
DIRECTIONS:
Heat oven to 375°F. Spray 13x9-inch (3-quart) glass baking dish with cooking spray. Spread 1/4 cup of the enchilada sauce in bottom of dish.
Place frozen pepper stir-fry in pie plate. Cover with plastic wrap and microwave on High 7 minutes, stirring halfway through cooking. Drain veggies; pat dry with paper towels. Return veggies to pie plate. Place uncovered in freezer 5 minutes to cool them quickly.
Meanwhile, in small bowl; mix refried beans, cumin and garlic salt. Spread each tortilla with slightly less than 3 tablespoons refried bean mixture to within 1/2 inch of edge.
Stir 1 cup of the cheese into the veggie mixture. Spoon about 1/4 cup mixture on top of bean mixture on each tortilla. Roll up tortillas; place seam side down in dish. Drizzle with remaining enchilada sauce, entirely covering tortillas.
Bake uncovered about 30 minutes or until bubbly and heated through. Sprinkle with remaining 1/2 cup cheese; let stand 2 to 3 minutes to melt cheese.