Kam's Kapsules: Weekly Previews That Make Choosing a Film Fun
For movies opening November 1, 2013
Kam Williams | 10/30/2013, 6:01 p.m.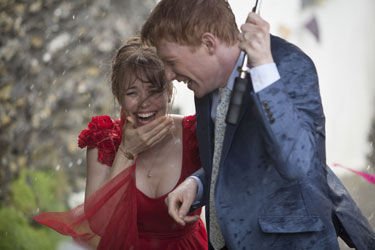 BIG BUDGET FILMS

About Time (R for profanity and sexuality) Romantic comedy about a 21 year-old bachelor (Domhnall Gleeson) with the ability to time travel who puts his special power to use to land the girl of his dreams (Rachel McAdams). Cast includes Bill Nighy, Lydia Wilson and Lindsay Duncan.
Ender's Game (PG-13 for violence and mature themes) Adaptation of Orson Scott Ford's sci-fi novel of the same name about a shy but brilliant boy (Asa Butterfield) who is enlisted to by the military to lead the defense of the planet during an impending alien invasion. With Harrison Ford, Ben Kingsley, Hailee Steinfeld, Abigail Breslin and Viola Davis.

Free Birds (PG for action, rude humor and scenes of peril) Animated family comedy about a couple of squabbling turkeys (Owen Wilson and Woody Harrelson) who put aside their differences to travel back in time in order to get turkey taken off the Thanksgiving menu. Voice cast includes Amy Poehler, Keith David and George Takei.
Last Vegas (PG-13 for profanity and sexuality) Buddy comedy about four BFFs who venture to Vegas to throw a bachelor party for the last single guy (Michael Douglas) in their aging rat pack. Co-starring Robert De Niro, Morgan Freeman, Kevin Kline, 50 Cent, Mary Steenburgen and Michael Ealy.

INDEPENDENT & FOREIGN FILMS

Behind the Blue Veil (Unrated) War on Terror documentary chronicling the efforts of the son of a Tuareg chief to save his tribe from extinction following the collapse of the government of Mali in the wake of an attack by al-Qaida.


Big Sur (R for nudity, sexuality and profanity) Beat Generation biopic about Jack Kerouac's (Jean Marc-Barr) descent into drugs and self-doubt at a retreat in Northern California following the success of his best-selling novel, "On the Road." With Kate Bosworth, Radha Mitchell and Anthony Edwards.
The Broken Circle Breakdown (Unrated) Romance drama about an atheist (Johan Heldenbergh) and a believer (Veerle Baetens) who fall in love at first sight despite their differences, only to have their marriage later tested when their 6 year-old daughter (Nell Cattrysse) develops an incurable disease. Supporting cast includes Nils De Caster, Geert Van Rampelberg and Robbie Cleiren. (In Flemish and English with subtitles)
Dallas Buyers Club (R for nudity, drug use, graphic sexuality and pervasive profanity) AIDS saga recounting Texas electrician Ron Woodroof's (Matthew McConaughey) real-life struggle to survive with the help of experimental medications after being diagnosed with HIV and given just 30 day to live. With Jared Leto, Jennifer Garner, Griffin Dunne and Steve Zahn.
Diana (PG-13 for sensuality, smoking and brief profanity) Naomi Watts plays the title role in this biopic about the Princess of Wales' clandestine love affair towards the end of her life with a Pakistani heart surgeon (Naveen Andrews). Featuring Douglas Hodge, Geraldine James and Charles Edwards.
Doonby (PG-13 for violence, sexuality and mature themes) Serendipitous fantasy about a mysterious drifter (John Schneider) who gets off a Greyhound bus in a tiny Texas town where he proceeds to touch the lives of everyone he meets. With Ernie Hudson, Joe Estevez and Jennifer O'Neill.