Giarrante, Turk won't recuse themselves on council district referendum issue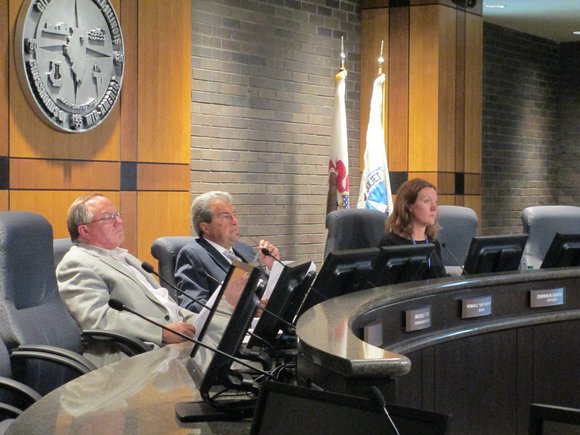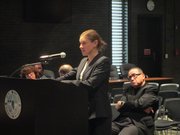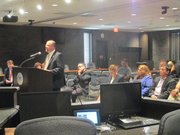 Lawyers will go through each of the challenged council redistricting referendum signatures this week before making arguments as to whether there are enough to invalidate the Concerned Citizens of Joliet's effort to get the issue on the November election ballot.
The first meeting of the electoral board on the challenge, filed by Joliet resident Sarah Andreano, began Monday with Concerned Citizens attorney Ruth Greenwood requesting that Joliet Mayor Tom Giarrante and At-Large Councilman Mike Turk recuse themselves from the proceeding because of real and/or perceived conflicts of interest.
Both men stand to be affected by the change to an eight-district council because the three at-large seats -- one of which is currently held by Turk -- would be eliminated, Greenwood said.
Joliet City Attorney Jeff Plyman, representing the city's interests in the hearing, advised the men that he doesn't believe a conflict exists under his interpretation of the law. Municipal electoral boards are to consist of the mayor, the city clerk and the longest-serving council member, which would be Turk, according to the law.
"No one member of the council will be affected any more than any other member of the council," Plyman said.
Turk said he chose to follow Plyman's advice.
"I've been on this council a long time and I've always attempted to do the right thing," Turk said. "I'm not going to put my reputation on the line for political gain. If the petition holds up, I'll support that, and if shows there are so many that are invalid ... I'll support that."
Giarrante did not address the recusal request.
Andreano submitted the objection to the Concerned Citizens petition, citing more than 300 signatures she believed were invalid for a variety of reasons, including the signer was not a registered voter, gave a bad address or had illegible handwriting.
She attended Monday's hearing but declined to comment.
At the outset, Concerned Citizens were advised by Greenwood that they would need a minimum of 1,500 signatures in order to get the council restructuring question on the Nov. 4 ballot. They collected more than 2,400.
What's not clear is whether 1,500 is the real "magic number." According to state law, it must be based on the number of registered Joliet voters who cast ballots in the November 2010 gubernatorial election.
The problem is that many of Joliet's precincts include both people who live inside the city and people who live outside of it. Will County Clerk Nancy Schultz Voots told Plyman she may not be able to provide an actual number without going through every single ballot cast to determine where the voter lived and if they voted for governor.
Greenwood suggested they follow municipal code instead, which calls for the number to be 10 percent of those Joliet residents who voted in the last mayoral election in 2011.
Andreano's attorney Bryan Kopman argued municipal law cannot be applied in this case because it provides no rules for procedure when a council is to be converted from a mix of at-large and district representatives to one with only district representatives.
However, Kopman said he was not ready to give up on Voots being able to find a way to get an actual number of Joliet gubernatorial voters and wanted to continue the pursue the issue.
In the meantime, lawyers will sit down Wednesday and Thursday to go through the challenged signatures to determine which ones they agree are invalid and which they should isolate for the board's decision.
The board will reconvene on Aug. 27 to hear arguments from both sides.
Kopman also presented an amended petition challenge that cited more signatures they found to be invalid and apparently raises other points not addressed in the original objection document. It's not known whether any or all of the revised document can be considered because new information provided after the Aug. 11 challenge deadline is considered late and therefore inadmissible.
Plyman and Greenwood said they would review the amended document and provide their opinions at the Aug. 27 hearing.
Contact Karen Sorensen at Karen@TheTimesWeekly.com.