Winfrey receives Marx Gibson leadership award
12/7/2014, 9:42 p.m.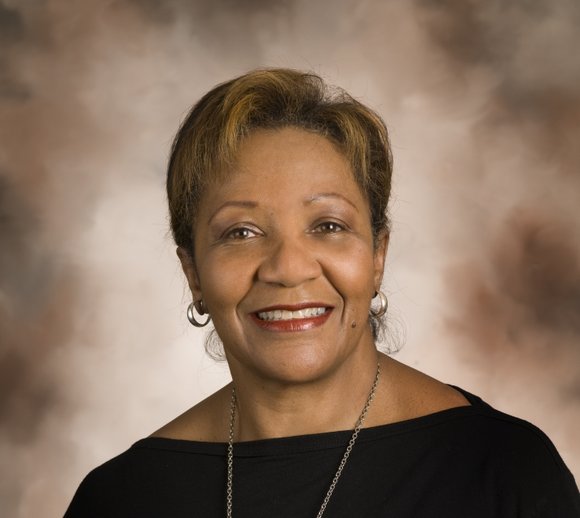 Community activist and Will County Board member Denise Winfrey is the recipient of the 2014 Marx Gibson Community Leadership Award, given jointly by the University of St. Francis (USF) and the Joliet Region Chamber of Commerce and Industry.
The award was presented Nov. 13 at the chamber's Community Leadership School graduation dinner.
"Denise has provided her time and talent to many charitable organizations and to leadership positions on our Will County Board," said USF President Arvid C. Johnson, who added that the Marx Gibson Community Leadership Award is very much in keeping with the university's mission and Franciscan ideal of service through leadership.
"Denise is certainly a leader who can be found at the center of so many activities that have made a difference in the lives of individuals as well as our community as a whole," Johnson added.
Winfrey is the 14th recipient of the award, given in the name of the late newspaperman Marx Gibson, who was dedicated to volunteerism and making a positive difference in the community, according to Russ Slinkard, CEO, Joliet Region Chamber of Commerce & Industry.
After receiving the award, Winfrey encouraged the Community Leadership School graduates not to fear failure. "Failure comes before success and not just in the dictionary, but in life," she said. Winfrey also commented that "leaders continue to learn" throughout their lives and encouraged the graduates to commit to continually learn about people, their professions and their communities.
Winfrey, of Joliet, is a member of the Will County Board, representing District 8. She is chair of the Capital Improvements Committee. Under her leadership, this committee is responsible for purchase and renovation of the former Social Security Building, which will house the Coroner and Recorder of Deeds; upgrades to the sheriff's facility on Laraway Road; and purchase of the First Midwest Bank building to secure the footprint for the new County Judicial Complex. Under Denise's leadership the face and function of Joliet, particularly the downtown, will be improved to better serve our citizens.
Winfrey is a member of the National Association of Counties (NACo) and is vice-chair of the Community, Economic and Workforce Development Committee. She is a member of the Large Urban Caucus Committee (LUCC) and of the International Development Task Force.
Additionally, she is a development committee member and former president of the Will Grundy Center for Independent Living; a board member and fundraising committee member for the Will Grundy Medical Center; St. Joseph Academy board member; and a long-standing member of the National Hook-Up of Black Women, Joliet chapter, where she is an active ways and means member.
Past Marx Gibson Community Leadership Award winners include: Diane Habiger, owner and manager of Lincolnshire Properties; Robert Wysocki, owner of Grant's Appliances, Electronics and More; Walter Zaida, long-time vice president of Joliet Junior College; Pam Heavens, executive director of Will-Grundy Center for Independent Living; J. D. Ross, retired president of Joliet Junior College and executive director of the Will-Grundy Medical Clinic; Dr. Albert Ray, Jr., retired anesthesiologist and volunteer for the Will-Grundy Medical Clinic; Terry Ruettiger, founder of Ruettiger, Tonelli and Associates; Jean Hansen, manager of the Joliet Office for the Illinois Department of Employment Security; John Mezera, retired long-time City of Joliet manager; Billie Limacher, park founder and community activist; Val Rand, owner and operator of Hallmark Gold Crown stores; John Leach, home builder and philanthropist; Russ Slinkard, CEO of the Joliet Region Chamber of Commerce and Industry; and Terry D'Arcy, president of D'Arcy Motors.