Remember the time Buick retweeted your here's-my-new-car photo? We do.
Sponsored by Buick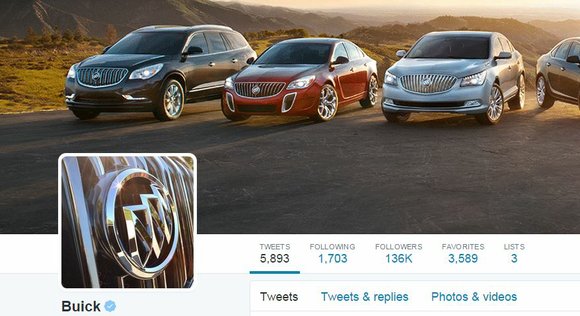 There's nothing like when somebody you admire retweets your tweet, right? You take a screenshot and tweet that because you want everybody to know important people see, read and retweet your Tweets.
Well, what about when a mega brand like Buick RT's your new car Selfie? Excitement is putting it mildly.

Check out these Buick owners and the photos they took that were retweeted by Buick's twitter account:
This Buick driver is super excited about his new Regal GS! He loves the way that it handles and Buick loves his beautiful new car selfie.
Ice on the roads is something that you would love to know about before it happens. This Buick driver was so pleased with this smart safety feature, the driver had to tweet it, and, of course, Buick retweeted it!
This LaCrosse driver and Buick Fan of the Week boasts that he's only 27 years old and this is his second Buick. @Buick reminds him that "Good taste is ageless."
For all of us animal lovers, this scene is very familiar. Your pooches, your Buick and your life blowing in the wind. This is an Encore-lovers team!
Everybody loves a Buick, even the kids. Jessica's son loves their new Verano.
This Buick driver is used to three rows of seats, but she gets everything that she needs out of this luxury LaCrosse!
Do you have a selfie with your Buick? If not, go ahead and take one! Tweet @Buick using the Hashtag #ThoseAreBuicks for your chance to be retweeted by an American great!