The Signature Room at the 95th: Destination Valentine's Day
2/11/2014, 5:01 p.m.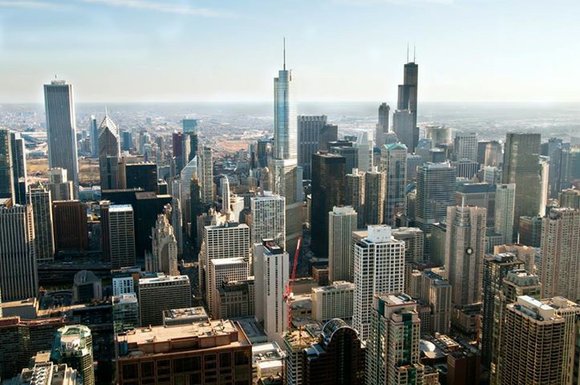 The Signature Room at the 95th is the perfect destination for Valentine's Day. Executive Chef Rosalie Barron's take on American Contemporary Cuisine is the perfect way to say "I Love You" to that special someone.
The spectacular view of the Chicago skyline and Lake Michigan from high atop the John Hancock Center is just the icing on the cake. The spectacular cuisine and the mind-boggling wine list, combined with superlative service and luxurious surroundings provides the setting for the ultimate romantic evening.
Start the meal with the Signature Room's spectacular Duck Trio, a beautifully presented appetizer consisting of crispy duck thigh, a hearty slice of seared foie gras and duck liver mousse on toast points with cranberry-orange chutney, and you'll quickly realize why Chef Barron and her crew have garnered such widespread acclaim. The Smoked Sturgeon and Caviar is another show stopper with its elegant presentation of peppercorn vinaigrette and flatbread.
Chef Barron and her team have been honored by the top names in the culinary arts, including the privilege of preparing the James Beard Foundation Dinner at the James Beard mansion in New York. Her vast experience as a corporate chef with Levy Restaurants and in the kitchens of Rick Bayless at Frontera Grill and Carrie Nahabedian at Naha, in addition to her training at Le Coron Blue in France, make her eminently prepared to create cutting edge dishes that dazzle the eye and please the palate.
Enjoy the meal with a glass of Chandon Brut from Napa Valley, or Piper-Sonoma Brut from Sonoma County, and it's obvious why the restaurant's emphasis on American sparkling and still wines in its extensive award-winning wine cellar is a spot-on accompaniment to the adventurous, yet satisfying cuisine. Wine Spectator magazine rates both the restaurant and the wine cellar among the best in the nation.
Lobster Bisque is one of those benchmark dishes that lets you know if a restaurant is on its point. The bisque here is brimming with lobster flavor, derived from a reduction of lobster shell stock and copious amounts of fresh Maine lobster meat.
The fennel relish and shellfish mousseline further enhance the bisque's rich, creamy flavor and texture.Pancetta Crusted Seared Scallops are a must-have. Paired with wild mushrooms, delectable goat cheese gnocchi, worthy of their own singular presentation, and whole grain mustard, this dish will bring you back to the Signature Room time and time again.
Roasted Rack of Lamb with parmesan and white truffle panna cotta is perfectly cooked, with the fork-tender meat beautifully seared to caramelized perfection on the outside and a warm, pink center oozing with juicy meat flavor.
The Grilled Rib Eye with smashed purple potatoes and Meyer lemon sauce elevates this Chicago mainstay to new heights, but go ahead and splurge a waistline notch or two with the Beef Wellington with red wine reduction, Chef Barron's new-age revival of a gourmet classic. The Three Cheese Cous Cous, Black Truffle Whipped Potatoes, Roasted Mushrooms and apple-bourbon are all side dishes that give a Signature Room meal its unique stamp.
Save room for the Granny Smith Apple Aumoniere with vanilla ice cream and caramel sauce or White and Dark Chocolate Mousse Cake with chocolate and pistachio bark and sun-dried cherry coulis. A cup of cappuccino and an after dinner Grand Marnier make a Signature Room at the 95th dining experience certain to go straight to your loved one's heart.
For reservations, visit signatureroom.com.