Many helping hands reach out on Day of Service
Hundreds participate in Joliet to remember Martin Luther King's legacy
Rex Robinson | 1/20/2014, 4:07 p.m. | Updated on 1/21/2014, 9 a.m.
More than 400 volunteers showed up at Joliet West High School Monday morning to do their part in helping others and participate in the National Day of Service to carry on the spirit and legacy of Dr. Martin Luther King Jr.
After hearing some words of inspiration from community leaders, the volunteers – a mix of children, teens and adults – fanned out across the city to paint, clean, organize and do whatever was needed at more than 20 different nonprofit agencies and organizations.
An estimated 200 students from Joliet West and Joliet Central high schools filled six buses to go out and do volunteer work. Many went to Abraham Lincoln National Cemetery to remove wreaths, while others volunteered at nonprofit agencies such as Unity Community Development Corporation, Catholic Charities Daybreak Center, and Guardian Angel Community Services.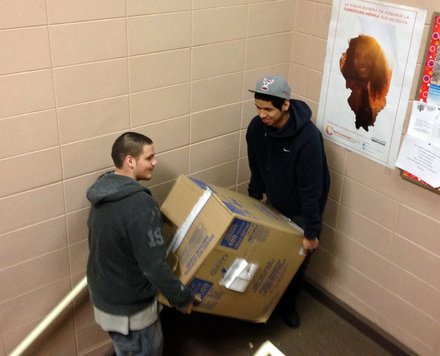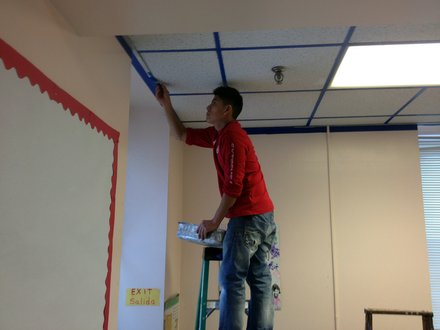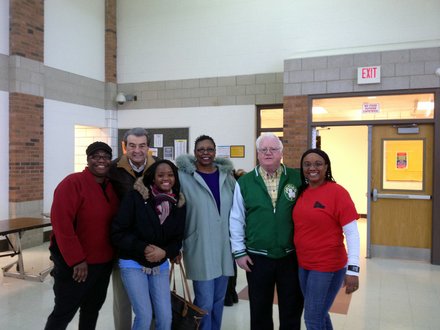 Ross Novak and about nine volunteers from the Joliet Job Corps spent most of the morning painting the offices at Child Care Resource and Referral at 801 N. Larkin Ave., while Betty Custard, senior site supervisor for the Broadway Early Childhood Center at St. Pat's Church and School, worked with volunteers cleaning desks and other areas and organizing files.
Will County board member Denise Winfrey (D-Joliet) joined Deborah Summers, national president of the National Hook-Up of Black Women, and other members of the organization's Joliet Chapter, and headed out to the Victory Center nursing home to read King's "I Have a Dream" speech and sing songs from the Civil Rights movement.
"We are really excited about being here today," Summers said. "Dr. Martin Luther King's legacy … means so much to us."

When Betty Washington arrived to clean floors and organize unload boxes of food for the weekly food pantry held Tuesdays at the Spanish Community Center, a woman approached her crying and said she was looking for a place to get food for her family.
"She said he had children at home who were hungry," Washington recalled. "It struck me that here on a Day of Service for Martin Luther King we have a young mother searching for food for her family. Certainly Dr. King would have been disappointed."
Washington said that encounter with the woman motivated her even more to volunteer.
"There are so many families in the Joliet area who are struggling," Washington said.
Rex Robinson can be reached at rex@thetimesweekly.com.