Slammers lose series finale to Evanville 7-1
7/6/2014, 11:29 p.m.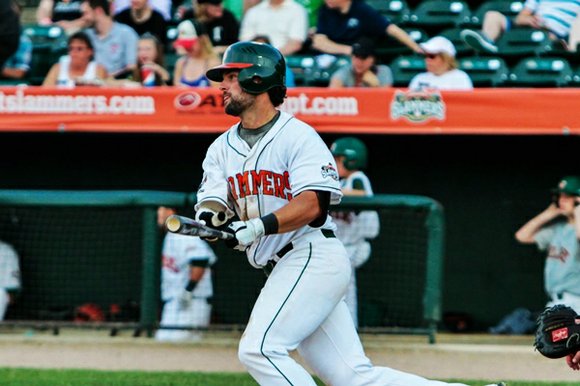 The Joliet Slammers provided this account of Sunday's game:
The Joliet Slammers-Presented by ATI Physical Therapy-lost 7-1 to Evansville on Sunday to close out the home series against the Otters.
Evansville scored a run in the 1st inning against Joliet starter Blair Walters. John Schultz singled and scored on a base hit from Nik Balog. The Otters scored another in the top of the 2nd as Jeremy Nowak walked and advance to 2nd base on a ground out. He went to 3rd on a fly ball and then scored on a wild pitch from Walters to make it 2-0. The Slammers scored in the bottom of the 2nd on an RBI double from Marquis Riley that pushed across Adam Giacalone, who had singled.
The game stayed 2-1 until the 7th inning. Both starters pitched very well. Blake Monar went six innings and allowed just that one run on two hits He struck out 11 and walked three. Walters was lifted with two outs in the 7th, after Evansville scored another run on a single from Phillip Wilson. Walters was tagged with the loss after going 6 2/3 innings and allowing three runs on six hits with six strikeouts and one walk.
In the 9th inning, Tyler Thicke made his Slammers and professional debut. He came in after Kevin McNorton allowed a RBI single to Wilson and run-scoring triple to Josh Allen. After a sacrifice fly from Schultz, Shayne Houck hit a long solo homer to make the score 7-1. The home plate umpire Jim Mecha ejected Thicke after a high and inside pitch to the next batter. Catcher Tylert Roberts argued in defense of his pitcher and he was ejected as was Manager Jeff Isom who came out to argue the other ejections. Sam Moore came on for Joliet to record the final out of the inning. The Slammers failed to score in the bottom of the 9th and have now lost 10 of their last 13 games.
The Slammers take Monday off and then start an 8-game road trip with a Tuesday 6pm doubleheader against the Normal CornBelters. They then play back-to-back 7pm games in Normal before opening a series on Schaumburg on Friday night. The two teams will then play a 5pm doubleheader on Saturday before wrapping things up on Sunday at 1pm. The All-Star Break then begins as Joliet will host the Dutch National Women's Fastpitch Softball team in an exhibition game on Monday July 14 at 7pm at Silver Cross Field. Slammers action this summer will be broadcast live on 1340 WJOL and wjol.com and the audio/video feed of home games this season can be seen at independentprofessionalbaseball.com.