Street fighters armed with weapons arrested for agg battery: Police
Karen Sorensen | 7/31/2014, 7:39 p.m.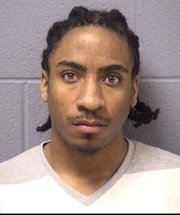 Three men who allegedly used a baseball bat and a metal-tipped golf club to beat four teens in a street fight were arrested Wednesday night, a spokeswoman for the Will County Sheriff's Office said.
The victims, ages 16 to 18, say they observed the suspects repeatedly driving up and down Pandola Avenue in a 1995 Cadillac DeVille, spokeswoman Kathy Hoffmeyer said. The teens said they believed those inside the car were responsible for breaking a window at a home on Pandola Avenue, where one of the 18-year-old victims lives and which had been reported to Joliet police, she said.
The victims told police they got into a car to follow the suspects in an attempt to obtain a license plate. They lost sight of the vehicle at an intersection, and were surprised when the Cadillac pulled up behind them at Raymond and September streets in unincorporated Plainfield Township, Hoffmeyer said.
One of the suspects, a 17-year-old male, approached the victims' car with a baseball bat and smashed the windshield before turning on the 18-year-old driver, she said. Suspect Kevin J. Ladson, 20, of 101 Hunter Ave., armed with what was described as a metal-tipped, baton-like weapon, cut the driver while suspect Derrick L. Price, 21, of 356 1st Ave., punched him, she said.
Another 18-year-old victim was struck in the head with the bat, Hoffmeyer said. The third victim reported being grazed by the bat while the fourth said he was able to elude contact, she said.
The two injured teens were treated at the scene by the Joliet Fire Department.
About five hours later, sheriff's deputies spotted the Cadillac near East Washington Street and Mississippi Avenue in Joliet Township, Hoffmeyer said. Price and Ladson were inside the vehicle and arrested on charges of aggravated battery and mob action. Ladson was also charged with unlawful use of a weapon, she said.
Police recovered a 20-inch golf club with a rough tip from inside the car, Hoffmeyer said.
Price and Ladson are being held in the Will County jail, with bond set at $10,000 for Price and $20,000 for Ladson.
Price was already out on $15,000 bond from a July 18 incident in which he was charged with aggravated fleeting from police, transporting/carrying alcoholic liquor, speeding, improper lane usage and going through six stop signs. On Nov. 26, 2013, he was arrested on charges of driving under the influence of alcohol and transporting/carrying alcoholic liquor.
Contact Karen Sorensen at Karen@TheTimesWeekly.com.