Slammers lose 'heartbreaker' to Wild Ones
6/15/2014, 9:44 a.m.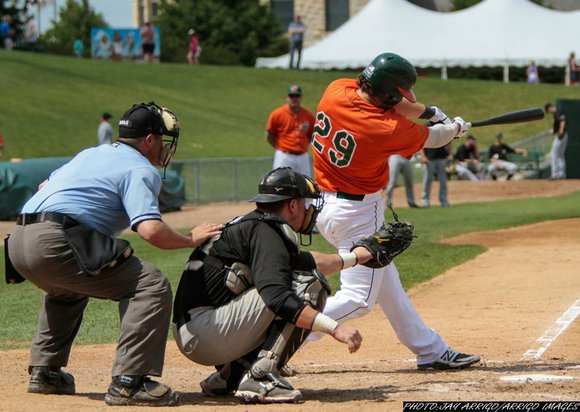 The Joliet Slammers-Presented by ATI Physical Therapy-lost a heartbreaker 5-4 to Washington on Saturday night.
Joliet had a nice two-out rally in the 1st inning starting with a walk by Russell Moldenhauer. Grant DeBruin followed with a long two-run homer to centerfield making it 2-0. Adam Giacalone doubled and Jose Garcia walked to extend the inning before Danny Hernandez flied out to end the top of the 1st.
Blair Walters started for Joliet and was in trouble early. He walked Daniel Poma and gave up a bloop double to Garrett Rau. CJ Beatty walked to load the bases. Stewart Ijames hit into a double play to score a run and make it 2-1. The inning ended when Rau was picked off of 3rd base by catcher Tyler Roberts.
The Slammers scored another run in the 3rd inning when they loaded the bases with nobody out. Giacalone hit into a double play but Riley scored to make it a 3-1 Joliet lead. Walters retired six in a row until the Wild Things scored twice in the 4th inning. John Brandmaier scored a run with a groundout and Max Garrett tied the game with an RBI single.
The game stayed a 3-3 tie until the 8th inning. Danny Hernandez led off with a single and advanced to second base on a sacrifice bunt from Tyler Roberts. Tyler Grogg singled to make it runners at 1st and 3rd. Max Casper then laid down a safety squeeze bunt to score Hernandez to give the Slammers a 4-3 lead.
In the bottom of the 9th against Joliet reliever Santo Manzanillo, Carter Bell singled. He was bunted to 2nd base and following a fly out, pinch hitter Connor Lewis came to the plate. Lewis ripped a game-ending 2-out, 2-run homer to rightfield and the Wild Things come from behind to win 5-4.
In Friday's game, Slammers centerfielder Chadwin Stang injured his leg sliding into 2nd base. He was placed on the 7-day injured list on Saturday and the Slammers hope to have him back by the end of the season. Also, former Slammers pitcher Jake Sanchez was traded by the Chicago White Sox to the Oakland A's for their AAA outfielder Michael Taylor on Saturday. Sanchez was pitching for the Sox Class A team in Kannapolis, Md. and was 5-4 with a 2.80 ERA.
The Slammers return home Tuesday the 17th at 7:05pm for a three-game set against the Normal CornBelters at Silver Cross Field. It will be a 2-dollar Tuesday, so all reserved seats will be two bucks! Slammers action this summer will be broadcast live on 1340 WJOL and wjol.com and the audio/video feed of home games this season can be seen at independentprofessionalbaseball.com.