Kam's Kapsules: Weekly Previews That Make Choosing a Film Fun
For movies opening March 14, 2014
Kam Williams | 3/12/2014, 8:19 p.m.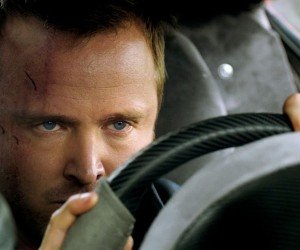 BIG BUDGET FILMS
Need for Speed (PG-13 for nudity, crude humor, reckless driving and disturbing crashes) High-octane revenge thriller, inspired by the video game of the same name, revolving around a recently-paroled street racer's (Aaron Paul) attempt to even the score with the wealthy business partner (Dominic Cooper) who'd framed him for manslaughter. With Imogen Poots, Michael Keaton and Scott Mescudi.
The Single Moms Club (PG-13 for sexuality and mature themes) Tyler Perry wrote, directed and co-stars in this tale of female empowerment about a support group created by five, frazzled single moms (Nia Long, Zulay Henao, Amy Smart, Cocoa Brown and Wendi McLendon-Covey) whose kids attend the same private school. Supporting cast includes Terry Crews, Eddie Cibrian and William Levy.
Veronica Mars (PG-13 for sexuality, violence, profanity and drug use) Kristen Bell reprises the title role in this screen version of the TV mystery series which finds the super sleuth returning home from New York to attend her high school reunion and to assist an ex-boyfriend (Jason Dohring) suspected of murder. With Krysten Ritter, Ryan Hansen and Francis Capra.
INDEPENDENT & FOREIGN FILMS
The Anonymous People (Unrated) 12-Step documentary encouraging the 23 million substance-abusers in America to think of themselves as in recovery rather than as addicts. With commentary by Kristen Johnston, Laurie Dhue and Patrick Kennedy.

The Art of the Steal (R for profanity and sexual references) Crime comedy about an art thief/motorcycle daredevil (Kurt Russell) who hatches a plan with the help of his brother (Matt Dillon) to purloin a priceless book. With Jay Baruchel, Katheryn Winnick and Terence Stamp.
Bad Words (R for profanity, crude humor, sexuality and brief nudity) Midlife crisis comedy about a 40 year-old, high school dropout (Jason Bateman) who exploits a loophole in the rules to compete in a national spelling bee. With Allison Janney, Kathryn Hahn and Rohan Chand.

Better Living through Chemistry (Unrated) Crime comedy about a straight-laced pharmacist (Sam Rockwell) whose life unravels when he has an adulterous affair with a seductive customer (Olivia Wilde). Ensemble includes Jane fonda, Ray Liotta, Ken Howard and Michelle Monaghan.
Dark House (R for violence and profanity) Haunted house horror flick about a young man's (Luke Kleintank) search for an abandoned mansion that he thought only existed in his imagination after learning his long-lost father's whereabouts from his institutionalized mother (Lesley-Anne Down). Featuring Tobin Bell, Zack Ward, Anthony Rey Perez and Alex McKenna.


The Den (R for profanity, sexuality, terror, gory violence and graphic nudity) Home alone thriller about a woman (Melanie Papalia) who becomes a masked murderer's (Brian Bell) next target after witnessing a killing while monitoring a webchat website in her apartment. With Matt Riedy, Adam Shapiro and David Schlachtenhaufen.
Enemy (R for profanity, graphic sexuality and frontal nudity) Stalker thriller about a jaded college professor's (Jake Gyllenhaal) obsession with a minor movie actor who looks just like him. Co-starring Melanie Laurent, Isabella Rossellini and Sarah Gadon.

Ernest & Celestine (PG for scary moments) Oscar-nominated adventure (for Best Animated Feature) about the friendship unexpectedly forged between an orphaned mouse (Mackenzie Foy) and a shy and retiring bear (Forest Whitaker). Voice cast includes Lauren Bacall, Paul Giamatti, William H. Macy, Nick Offerman and Jeffrey Wright.