Wild Salmon, Asparagus, and Shiitakes in Parchment
3/26/2014, 3:11 p.m.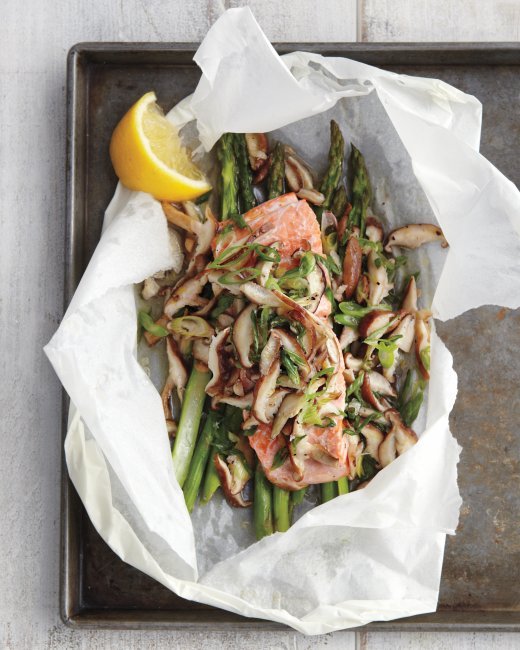 Servings: 4
Ingredients
8 ounces shiitake mushrooms, trimmed and thinly sliced
8 ounces medium asparagus (about 1/2 bunch), trimmed and halved lengthwise
4 scallions, thinly sliced
1/4 cup extra-virgin olive oil
Zest of 1 lemon, plus lemon wedges for serving
Coarse salt and freshly ground pepper
1/4 cup water
4 skinless wild-salmon fillets (5 ounces and 1 inch thick each)
Directions
Preheat oven to 400 degrees with racks in upper and lower thirds. Cut four 12-by-17-inch pieces of parchment. Fold each in half crosswise to make a crease, then unfold and lay flat. Toss mushrooms, asparagus, and scallions with oil in a large bowl. Sprinkle with lemon zest and season with salt and pepper.

Remove asparagus from mixture and divide evenly among parchment pieces, creating a bed of spears on 1 side of crease. Top each with 1 piece of fish, then with mushroom mixture. Drizzle each serving with 1 tablespoon water. To close, fold parchment pieces over each serving; make small overlapping pleats to seal the open sides and create 4 half-moon-shaped packets.
Bake packets on 2 baking sheets 9 minutes. Carefully cut open packets with kitchen shears (steam will be released). Serve fish, asparagus, and mushrooms with lemon wedges for squeezing.