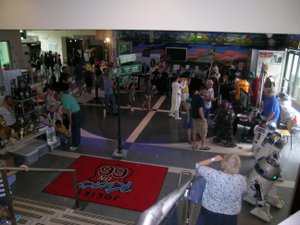 From the Joliet American Legion Band to the Klingon Band, more than 80 costumed characters, featured artists and a full day of activities are coming to the Joliet Public Library for its 5th Annual Star Wars Day. Saturday, June 7 is the day that the Joliet Public Library downtown will host what is billed as the world's largest Star Wars themed library event, and the world's second largest one-day Star Wars event overall. Expanding the fun for all ages, the Joliet Area Historical Museum will host a series of exhibits and activities, which will run at both locations from 11 a.m. to 4 p.m. The expected result: a record-setting number of Star Wars Day visitors to downtown Joliet the first Saturday in June. Attracting participants from Illinois, Indiana, Wisconsin, Michigan and Ohio, the increasing popularity of the full day event is hardly a coincidence, according to local tourism leaders. Instead, it is an outcome of good planning and partnership that prove to be a powerful "force" to draw visitors, according to local tourism leaders.
For its part, the Heritage Corridor Convention and Visitors Bureau (CVB) has been working to attract attention to the event, which is a great example of local partnership among tourism sites in the area. The CVB, as it has for the past four years, supported Star Wars Day promotion at the recent Chicago Comic and Entertainment Expo, known as C2E2, at McCormick Place. "In the past, visibility at 'Chicago's pop culture show' has helped to bring positive attention to this hugely popular one-day event," according to Bob Navarro, local CVB President. Promotional cards have been produced and distributed at local venues for the past month, and information has been included on the website ( www.HeritageCorridorCVB.com ) and through social media, as well. Even the Joliet Route 66 Diner will have a special Star Wars menu for Star Wars loyalists. "Tourism teamwork like this helps bring new visitors to downtown Joliet, and lets key sites and businesses spotlight the best we have to offer," said Navarro.
For additional information on Star Wars Day in Joliet, contact any of the participating locations, including: Heritage Corridor Convention and Visitors Bureau at 800.926.CANAL (2262), the Joliet Public Library at 815.740.2260 (www.jolietlibrary.org), or the Joliet Area Historical Museum at 815.723.5201 (www.jolietmuseum.org).