Memorial Day: What's closed and where events are being held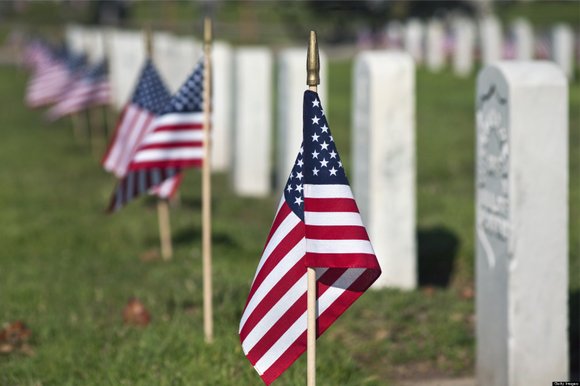 Monday is Memorial Day, a national holiday that honors members of the military who died while serving in the U.S. Armed Forces. Here's what you need to know about the holiday:
What's closed: All government offices, schools, libraries, other public buildings and most banks. There will be no mail delivery. Also, no trash collection; pickup is postponed by one day.
History: The holiday originally was known as Declaration Day, originating after the end of the American Civil War to remember those Union and Confederate soldiers who died in battle. After the turn of the 20th century, the honor was extended to cover all Americans who died while in military service. It began being known as Memorial Day in the late 1800s, but the name was not officially changed until 1967. In 1971, the official date was changed from May 30 to the final Monday of May.
Where events are being held:
Romeoville -- 10 a.m., Village of Romeoville Memorial Day Ceremony, Edward "Doc" McCartan Veterans Memorial, 11 Montrose Drive. The Romeoville High School Band and the Firefighters Highland Guard of Naperville Pipes and Drums Band will perform, and the guest speaker will be Charles Ray, a retired member of the U.S. Marine Corps. Wreaths will be presented by several groups, including American Legion Post 52.
Plainfield -- 10:30 a.m., Plainfield American Legion Marne Post 13 Memorial Day Parade. The event steps off at Ira Jones Middle School, 15320 S. Wallin Drive, travels east on Ottawa Street, and ends at the memorial in Settler's Park, located near Van Dyke Road and Ottawa Street. A flag raising ceremony will take place following the parade. Parking along the parade route will be restricted, but there will be parking available at Plainfield Village Hall and along Village Center Drive as well as at Ira Jones School and along Van Dyke Road, south of Ottawa Street.
Shorewood -- 5:30 p.m., Memorial Day Parade and Bike Decorating Contest. Open to children ages 5 to 14, there will be prizes awarded to age groups 5 to 8 and 9 to 14 as well as a "Most Patriotic Family" entry. Bikes, wagons and tow-alongs must be decorated in a red, white and blue theme. Participants should gather at 5:30 p.m. at the Towne Center subdivision at Moran and Peyton for judging. There will be a half-mile parade, followed by a free concert and ice cream social.
Elwood -- 11:30 a.m., Abraham Lincoln National Cemetery, 20953 W. Hoff Road, Elwood. The Joliet American Legion Band will perform, and actors portraying Abraham and Mary Todd Lincoln and members of the military dating back to the Revolutionary War will present reenactments.
Lockport -- 11 a.m., flag ceremony at Lockport City Hall, 222 E. 9th St.; noon, memorial ceremony at American Legion Post 18, 15052 S. Archer Ave.
Contact Karen Sorensen at Karen@TheTimesWeekly.com.