Holiday events, job fairs coming up in Romeoville
11/14/2014, 10:15 a.m.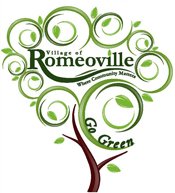 If you live in or near Romeoville, here are some events to check out...
Rotary Poinsettia Sale
Romeoville Rotary Club 8th Annual Holiday Poinsettia Sale through November 26th

Superior quality Poinsettias are an outstanding value at $9.00 per plant. Funds are used for community programs and High School scholarships. The Poinsettias are:
Nursery Fresh
14-17" Plants with 5-7 blooms
Wrapped in a foil covered 6 in. pot
Choice of Red, White, Pink, Marble, Red Glitter and Da Vinci
Poinsettias will be available for delivery December 5, 2014 by the Rotarian the plant was purchased from. To place an order, call Dawn Caldwell at 815-482-1640 or E-mail dcaldwell@romeoville.org
Peacock Engineering Job Fair
Friday, November 14, 2014, 9 a.m.-2 p.m.
1100 Remington Blvd. (corner of 115th & Remington)
Please apply in person at Job Fair for the following positions: Group leader, machine operators and universal packer. Salaries range based on position and shift. All positions are located in Romeoville.
Aryzta Job Fair
Friday, November 14, 2014, 10 a.m.-5 p.m.
Country Inn and Suites, 1265 Lakeview Drive, Romeoville. Love pizza? ARYZTA's Romeoville pizza assembly plant is looking for production workers, maintenance mechanics, warehouse and sanitation workers, machine operators and production line trainers. Please apply online by clicking here. All positions are located in Romeoville. EOE / E-Verify Employer.
Fall Vendor Fair sponsored by Good Shepherd Church
Saturday, November 15, 2014, 9 a.m. to 2 p.m.
25 Alexander Circle, Romeoville
Come stroll the aisles and enjoy an array of products on display available from local vendors including: Tastefully Simple, Scentsy, Pampered Chef, Creative Memories, MIGdesigns, Origami Owl, Younique, 31, Toys for My Best Friends, Pink Papaya, Healing Spirit and Crafts by Quartz. Light refreshments available for purchase. For questions, call (815) 886-4354.
Holiday Craft Show
Saturday, November 15, 2014, 10 a.m. to 2 p.m.
Irene King Elementary School, 301 Eaton Ave.

For those interested in being a vendor, a fee of $25 per 10x8 space (does not include table) is required. A limited number of six-foot tables are available for a fee of $5. Interested crafters must fill out an application/registration form. Forms will be made available by mail or email. Registration will be taken until all spaces are filled. Spaces are limited and accepted on a first come, first paid basis. Registration and payment will be accepted by mail or walk-in at the school in the front office. If there are any questions, contact the PTO at ihkpto@gmail.com.
Hampton Park Social Athletic Club Annual Thanksgiving Fundraiser
Sunday, November 16, 2014, 11 a.m.
Lost Acres, 7 Alexander Circle, Romeoville
Romeoville Chamber of Commerce Scholarship Day
Dine and Donate at Stone City Saloon

Monday, November 17, 2014, All Day
Stone City Saloon, 721 N Independence Blvd.
A percentage of your bill will be donated to the Chamber Scholarship Fund assisting High School Seniors with their upcoming college tuition needs. Dine in only.
Around The World Wine Tasting Event
Sponsored By: Lou's Styling Place & At's A Nice Pizza Wednesday, November 19, 2014, 6:30-9:30 p.m.
At's A Nice Pizza 334 Independence, Romeoville

$25.00 for Romeoville Area Chamber of Commerce members, $30.00 prospective Romeoville Area Chamber of Commerce members. In the spirit of the holiday season, we are participating in Operation Christmas of Romeoville and are asking for donations of gift cards. Reservations are required. Please call (815) 886-2076 OR (815) 258-0855.
Valley View School District Parent Network Night
Thursday, November 20, 2014, 6 p.m.
Lukancic Middle School,725 Normantown Road, Romeoville
Conversations about the new state-mandated PARCC and Dynamic Learning map assessments.
Northern Will County's 21st Annual Harvest Saturday Food Drive
Saturday, November 22, 2014, 11 a.m. to 3 p.m.
St. Andrew the Apostle Church, 505 Kingston Ave., Romeoville
Sponsored by: St. Andrew the Apostle Catholic Church, Good Shepherd Lutheran Church, Community Christian Church, United Presbyterian Church and The Rock Church. Please place your food donation in plastic bags outside your front door by 11 a.m. Pick-up is from 11 a.m. to 3 p.m. Questions? Would you like to volunteer? Please call Bernadette Sedlacek Monday through Friday at (815) 886-4165, ext. 303.

Romeoville Rotary Club Weekly Meetings
Wednesdays at Noon
At's A Nice Pizza, 334 N. Independence Blvd., Romeoville
New Members Welcome! Hope to see you there! For more information, contact Dawn Caldwell via email at dcaldwell@romeoville.org or call (815) 886-0279.
The Lockport Township Park District Classes & Trips
A variety of classes are offered for children, adults and seniors, including swimming, dance, child development and much more! Also check out the trip opportunities we offer. For more info. visit www.lockportpark.org or call (815) 838-3621, ext. 0.