GOP effort to reduce $466M county budget fails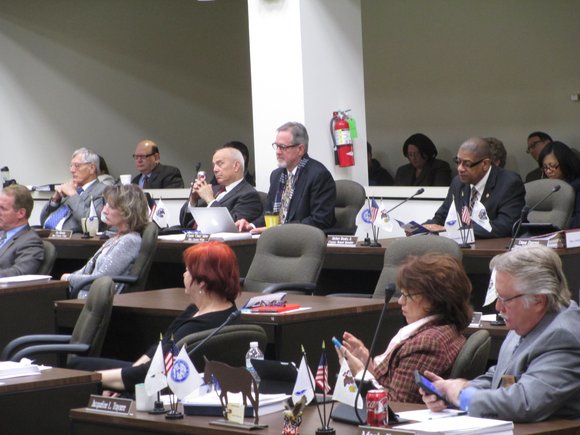 A surprise effort by Republican Will County Board members to gut Larry Walsh's capital improvement spending plan failed Thursday when the county executive cast the tie-breaking vote to preserve his 2014-15 budget.
Mike Fricilone, a District 7 board member from Homer Glen, proposed amending Walsh's $466 million budget by reducing the amount to mach last year's tax levy, with the $1.5 million difference being taken out of capital improvements.
Had it passed, only about $900,000 would have remained for capital projects, forcing the re-evaluation of long-term plans to renovate several downtown Joliet buildings for county office space in anticipation of a new courthouse and to make improvements to the Will County sheriff's office on Laraway Road.
Although they didn't broach the issue during earlier budget discussions, Republican board members said taxpayers shouldn't be asked to shoulder the burden another property tax hike, even one as small as $5 for the owner of a $200,000 home.
"This county, in my opinion, can accomplish many of our goals without raising real estate taxes," said District 2 board member Jim Moustic, a Frankfort resident and Republican Caucus chairman. "I think property owners need a break."
The economy's just coming out of a recession in which home values have dropped dramatically and many people have either lost jobs or seen their salaries decrease, said District 11 board member Chuck Maher, of Naperville.
"Rethink the way you think about the world, folks," Maher said.
But supporters rebutted those points, saying county tax bills have gone down substantially since 2009 because property values dropped. A small increase at this juncture is a small price to pay for building needs that have been put off for years, they said.
"It's not new math, it's not hocus-pocus," District 10 board member Steve Wilhelmi, a Joliet Democrat, said. "Will County residents are going to be paying about what they were paying (in taxes) about five years ago."
The $2.4 million in new funds that the tax increase will generate is for roads and to begin work on replacing buildings, including the Will County Courthouse, that are not only inadequate for the needs of a county that has doubled in size in the last 20 years but are becoming increasingly dangerous, supporters said.
"I think the biggest issue is public safety, and I don't want to continue to risk public safety," said Jacqueline Traynere, a District 4 board member from Bolingbrook.
The final vote was 13 to 13, evenly divided between Democrats and Republicans, with Democrat Walsh casting the deciding ballot in support of keeping the budget as proposed.
Contact Karen Sorensen at Karen@TheTimesWeekly.com.