Quinn pledges $5M to finish JJC downtown campus
10/13/2014, 9:41 a.m.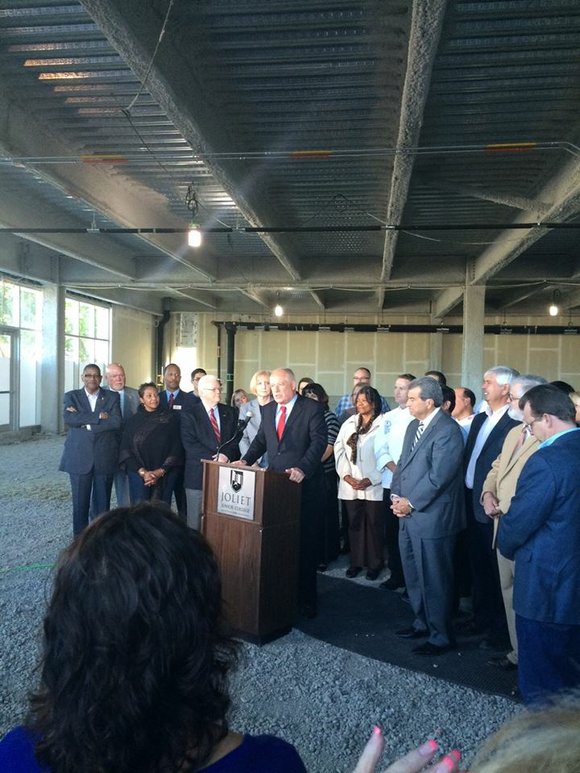 Gov. Pat Quinn's office provided this news release on the state's $5 million grant to complete Joliet Junior College's downtown City Center Campus:
Gov. Pat Quinn today announced a $5 million state investment to help finish the ongoing construction of the downtown City Center Campus for Joliet Junior College. The expanded facility will offer more classroom and laboratory space for the college's increasing enrollment and help boost the economy in downtown Joliet. Today's announcement is part of Governor Quinn's agenda to improve Illinois' educational opportunities and prepare students for today's in-demand careers.
"Joliet Junior College is a pioneer for Illinois and the nation when it comes to providing a high-quality, affordable education for aspiring students," Governor Quinn said. "Joliet has been preparing young minds for rewarding careers for over a century and this investment will help ensure they are around for years to come. The City Center Campus will invigorate the community and allow the college to reach even more prospective students, producing a well-educated, competitive workforce."
The Governor's Illinois Jobs Now! capital construction program will provide $5 million to help finish the interior work on the 96,000-square-foot, six-story building in downtown Joliet. The college has completed exterior work on the building, and once the interior work is finished the facility will be the new home of the college's workforce development, adult education and renowned culinary arts programs. In addition to multiple commercial-style teaching kitchens, the building will include a restaurant, student dining area, library, general classrooms and office space. The project should be complete in 2016.
"We are thrilled to receive this investment," Joliet Junior College President Dr. Debra Daniels said. "This support from our Governor and our state indicates a true understanding of the importance of our mission, which is to provide access to quality and affordable education. In addition, we believe this is a wonderful investment in downtown Joliet and Will County and will benefit generations to come."
The City Center Campus is a $58 million project that includes funding from the state, college and a 2008 referendum. The campus is designed to achieve a minimum of LEED Silver certification, a testament to its energy efficient, environmentally-friendly design.
In addition to the City Center Campus, Joliet Junior College facilities include the main campus on Houbolt Road in Joliet, satellite campus in Romeoville and education centers in Frankfort, Morris and the Weitendorf Agricultural Education Center in Joliet. The college also offers classes at area high schools.
Joliet Junior College was the nation's first public community college, and offers pre-baccalaureate programs for students planning to transfer to a four-year university. The college provides occupational education leading directly to employment, adult education and literacy programs, workforce development services and student support services.
"Today's announcement shows that good things happen when local institutions work with their state legislators to champion essential projects," State Senator Pat McGuire (D-Joliet) said. "Governor Quinn rightfully wants Joliet Junior College to grow even stronger and downtown Joliet to become even more vibrant."
"This is an important day for Joliet Junior College, the students and downtown Joliet," State Representative Larry Walsh, Jr. (D-Joliet) said. "I join in the vision of the state to keep the economic wheels turning through the Illinois Jobs Now! construction program. The JJC City Center Campus is another investment in education and I look forward to the opening."
The Joliet Junior College project is part of Governor Quinn's $31 billion Illinois Jobs Now! program, which will support more than 439,000 jobs over six years. Illinois Jobs Now! is the largest construction program in Illinois history, and is one of the largest construction programs in the nation.