Silver Cross staff among those at breast cancer walk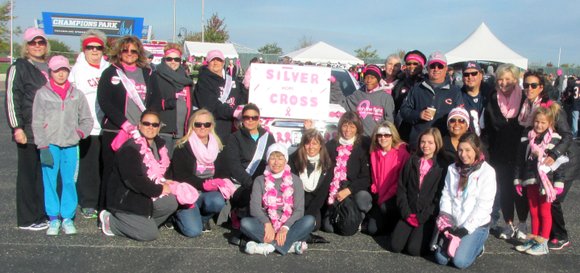 Along with 2,000 men and women of all ages wearing a variety of pink apparel, the Silver Cross Center for Women's Health employees participated in the American Cancer Society's Making Strides Against Breast Cancer 5K (3.1. mile) walk at Chicagoland Speedway in Joliet on October 5.
"As breast health clinicians, we felt it was important to support the Making Strides Against Breast Cancer Walk since we interact with many women daily educating them on their breast health and helping those with cancer fight the disease," said Marci Vasiliades, Director of Imaging Services at Silver Cross Hospital. "We also wanted to help raise awareness for women to get their annual mammograms and support finding a cure for breast cancer."
Participants in this year's walk raised over $36,000 to help women learn the importance of early detection and treatment and eliminate breast cancer. The 15th annual Making Strides Against Breast Cancer walk brings the entire community together to celebrate breast cancer survivors, educate women about the importance of reducing their cancer risk by getting their annual mammograms, and raise funds for lifesaving research and support programs to further fight against breast cancer.
Since 1993, eight million walkers across the United States have collected more than $460 million to help fight breast cancer through Making Strides Against Breast Cancer events. To date, there are 300 Strides events scheduled throughout the country. Together, we are making strides towards a world with less cancer and more birthdays.
$100 Could Save Your Life
In honor of Breast Cancer Awareness Month, Silver Cross Center for Women's Health will offer $100 screening mammograms including the radiologist fee for patients who call by October 31 to schedule an appointment before Dec. 31, 2014. A physician's order is required. Cash, check and credit cards accepted at time of appointment—insurance will not be billed. Call (815) 300-7076 to schedule your mammogram. For a referral to a doctor, call the Silver Cross free Physician Referral Service at 1-888-660-HEAL (4325) of visit www.silvercross.org.
About the Silver Cross Center for Women's Health
The Silver Cross Center for Women's Health represents a unique concept in women's healthcare. Located on the new Silver Cross Hospital campus at I-355 and Route 6 in New Lenox, the Center was the first in the region to provide an advanced level of diagnostics coupled with specialized care for women in one convenient location. Set in a spa-like environment, the Silver Cross Center for Women's Health offers a variety of healthcare services designed around a woman's needs and lifestyle including digital mammography, breast tomosynthesis, or 3D mammography, breast ultrasound including ultrasound-guided breast biopsy, stereotactic biopsy, bone densitometry, and a breast cancer support group.
Patients also have the opportunity to network and talk with other women at regular support groups. Silver Cross has partnered with the American Cancer Society to create an I Can Cope Breast Cancer Support Group that meets on the fourth Tuesday of each month from
6:30 to 8:30 p.m. in the Silver Cross Hospital Conference Center, 1890 Silver Cross Blvd., Pavilion A, New Lenox. First time participants should call 1-888-660-HEAL (4325) or visit www.IMatter.silvercross.org to register to attend.
Plus, through our Silver Cross' free I Matter™ program, Center for Women's Health patients receive valuable discounts from over 150 local businesses just for getting their regular health screenings. To learn more visit www.IMatter.silvercross.org.
Silver Cross is designated as a Breast Imaging Center of Excellence by the American College of Radiology (ACR). The ACR gold seal of accreditation represents the highest level of image quality and patient safety. It is awarded only to facilities meeting ACR Practice Guidelines and Technical Standards after a peer-review evaluation by board-certified physicians and medical physicists who are experts in the field.
In addition to having this special accreditation, the Center is also unique in that there is a Certified Breast Care Nurse (CBCN™). This specialized nurse guides patients through the next steps in their care.