Old Cub Foods store being converted into church
Karen Sorensen | 10/21/2014, 9:17 p.m.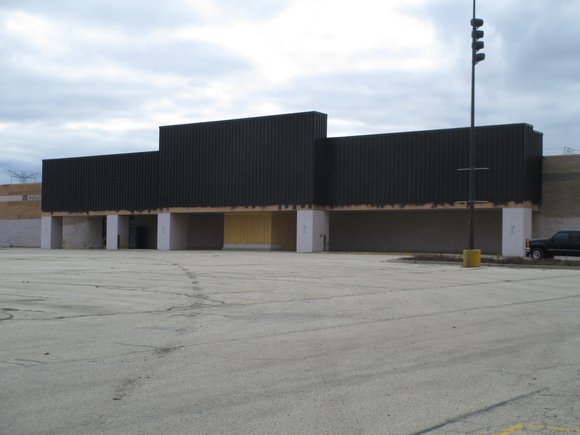 The former Cub Foods store on Larkin Avenue has been sold and is being converted into a new church, according to the city of Joliet's director of community and economic development.
The 64,000-square-foot building, vacant since 2006, was en route to being torn down by the city when Harvest Bible Chapel stepped in and bought it from the Bank of America in late summer, Jim Haller said.
Since then, the church has painted the metal overhang across the entrance a dark brown and is in the process of cleaning the facade's masonry.
That is the just the start of what the 191 S. Larkin Ave. building will need to be brought back to code so it can be used as a church, Haller said. The building was vandalized over the years, and stripped of its heating, air-conditioning, plumbing and electrical units, he said.
A report done at the time the city was getting ready to start condemnation proceedings in 2013 said the roof leaked, windows were broken and mold was growing.
Haller said he did not know the church's timetable for completing the renovation work, and church Pastor Eric Posteluk did not return calls or email asking about the building plans.
Haller acknowledged that converting the commercial building into a religious structure means it will not generate any new property tax for the city or other governments, but it's hoped its presence will spur the redevelopment of the old Walmart building located directly to the south. The only other occupant of the strip mall is a Sam's Club at the far southern end.
"They've promised to remodel the exterior and fix up the interior," Haller said. "It should help stabilize that area."
Churches do not require special permits and are allowed to locate in commercial properties and sites zoned for other uses without city approval, he said.
Harvest Bible Chapel Joliet is a branch of the Harvest Bible Chapel established in Rolling Meadows in 1988. Seven years later, a "campus" was created at that location and since then the church has added campuses in Elgin, Niles, Crystal Lake and the Wicker Park neighborhood of Chicago, according to the Joliet church Web site, www.harvestjoliet.org.
The Joliet church was started in 2010, one of 50 built in addition to the campuses. Combined church membership is more than 25,000, the Web site said.
Joliet services are currently held at Lynne Thigpen School, 207 S. Midland Ave.
Contact Karen Sorensen at Karen@TheTimesWeekly.com.