Kam's Kapsules: Weekly Previews That Make Choosing a Film Fun
For movies opening October 23, 2014
10/22/2014, 6:49 p.m.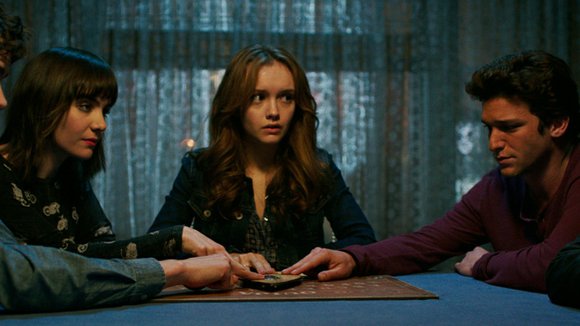 BIG BUDGET FILMS
Ouija (PG-13 for disturbing violence, frightening images and mature themes) Horror flick about a tight-knit group of teens who unwittingly awaken a dormant dark force when they decide to investigate the mysterious murder of a friend who perished right after recording herself playing a board game. Ensemble cast includes Olivia Cooke, Ana Coto, Daren Kagasoff, Bianca Santos and Douglas Smith.
INDEPENDENT & FOREIGN FILMS
23 Blast (PG-13 for underage alcohol consumption) Fact-based, overcoming-the-odds drama about a high school football star (Mark Hapka) who didn't let sudden blindness due to a sinus infection derail his dream of gridiron greatness. With Bram Hoover, Stephen Lang and Max Adler.
1,000 Times Good Night (Unrated) Marital crisis drama revolving around a celebrated war photographer (Juliette Binoche) whose husband (Nicolaj Coster-Waldau) has tired of her dangerous line of work. Support cast includes Chloe Annett, Larry Mullen, Jr. and Eve Macklin. (In Norwegian and English with subtitles)
Citizenfour (Unrated) Patriot or traitor documentary featuring interviews with whistleblower Edward Snowden about his leaking thousands of classified documents he had access to in his capacity as an NSA contractor with Top Secret clearance. Featuring commentary by Julian Assange, Glenn Greenwald and Jacob Appelbaum. (In English, Portuguese and German with subtitles)
E-Team (Unrated) Human Rights Watch-sponsored documentary chronicling the exploits of monitors dispatched by the organization to chronicle atrocities being committed by ruthless dictators around the world. (In English, German, French, Russian and Arabic)
Force Majeure (R for profanity and brief nudity) Dysfunctional family drama about a Swedish couple (Johannes Kuhnke and Lisa Loven Kongsli) whose marriage hangs in the balance after the cowardly husband just saves himself, ignoring his wife and kids (Clara Wettergren and Vincent Wettergren), when an avalanche hits during their vacation in the Swiss Alps. With Brady Corbet, Jakob Granqvist and Kristofer Hivju.
Glen Campbell: I'll Be Me (PG for mature themes and brief profanity) Reverential biopic chronicles the legendary country singer's farewell tour as he struggles with Alzheimer's.
The Heart Machine (Unrated) Romance thriller about a guy (John Gallagher, Jr.) who comes to suspect that the long-distance lover (Kate Lyn Sheil) he met on the internet might actually live in the same town. With David Call, Louis Krause and Libby Woodbridge.
John Wick (Unrated) Keanu Reeves handles the title role in this revenge thriller about a former assassin who comes of retirement to track down the gang that robbed him of everything. With Alfie Allen, Michael Nyqvist, Bridget Moynahan, John Leguizamo, Lance Reddick and Willem Dafoe.
Laggies (R for profanity, sexuality and partying) Romantic comedy revolving around a 28 year-old (Keira Knightley) who regresses and starts hanging out with a 16 year-old (Chloe Grace Moretz) with a handsome single-dad (Sam Rockwell) after her longtime boyfriend (Mark Webber) pops the question. With Gretchen Mol, Jeff Garlin and Ellie Kemper.

Life of Riley (Unrated) The legendary Alain Resnais directed this adaptation of Alan Aykbourn's play of the same name about three couples left devastated by the news that a mutual friend has only a few months to live. Co-starring Sabine Azema, Hippolyte Girardot, Caroline Silhol, Michel Vuillermoz, Sandrine Kiberlain and Andre Dussollier. (In French with subtitles)