Haven't voted yet? Here's what you need to know
Voters to decide federal, state and county races and referendums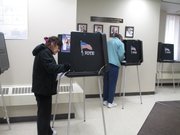 Any way you slice it, there will be a new sheriff in town come Nov. 5.
Both men running for Will County's top law enforcement post – Democrat Mike Kelley and Republican Ken Kaupas -- bring years of law enforcement experience and a dedication to public service to the table. One will succeed Sheriff Paul Kaupas, who is retiring after a 12-year run. (The two Kaupases are cousins.)
The right man for the job? That's up to the voters, who head to the polls Tuesday to cast their ballots in that race and several other county and state campaigns, including the hotly contested gubernatorial battle between Gov. Pat Quinn and his Republican challenger Bruce Rauner.
The polls will be open from 6 a.m. to 7 p.m. (Not sure where's yours is located? You'll find a precinct locator tool at www.thewillcountyclerk.com.)
Why wait? Vote early
You need not wait till Tuesday or even be registered to cast your ballot, however. Early voting and voter registration is available from 8:30 a.m. to 7 p.m. Thursday, Friday and Monday, 9 a.m. to 3 p.m. Saturday, 10 a.m. to 4 p.m. Sunday at the Will County Building, 302 N. Chicago St., Joliet; Joliet Park District Inwood Center, 3000 W. Jefferson St., Joliet; Wheatland Township Office, 4232 Tower Court, Naperville; and Bolingbrook Village Hall, 375 W. Briarcliff Road.
For local residents, there's early voting Thursday and Friday at the Homer Township Office, 14350 W. 151st St., Homer Glen; Homer Glen Village Hall, 14933 S. Founders Crossing; Lockport Township Office, 222 E. 9th St., Lockport; Troy Township Office, 25448 Seil Road, Shorewood; Plainfield Village Hall (also available for Plainfield Township residents), 24401 W. Lockport St.; Romeoville Village Hall, 1050 W. Romeo Road; and New Lenox Village Hall (also available for New Lenox Township residents), 1 Veterans Parkway.
On Saturday, Lockport Township will offer early voting from 9:30 a.m. to noon and Homer Township from 9:30 to 11:30 a.m.
State and federal races
Given the huge number of TV ads for Quinn and Rauner, most residents are aware there's a race for governor. However, there are contests in all of the statewide offices up for election this year.
In the race for Illinois treasurer, state Rep. Tom Cross, a Republican whose 97th House district includes portions of Plainfield, Joliet and Shorewood), is facing off against Democrat Michael Freiches and Libertarian Matthew Skopek. Incumbent Dan Rutherford opted not to seek re-election, making an unsuccessful bid for the GOP gubernatorial nomination instead.
Also on the statewide ballot:
• Attorney general: Incumbent Democrat Lisa Madigan vs. Republican Paul M. Schimpf and Libertarian Ben Koyl.
• Secretary of state: Incumbent Democrat Jesse While vs. Republican Michael Webster and Libertarian Christopher Michel.
• Comptroller: Incumbent Republican Judy Baar Topinka vs. Democrat Sheila Simon and Libertarian Julie Fox. (Simon gave up her post as lieutenant governor to seek this office.)
Also up for election is state Rep. Larry Walsh (D-Elwood), who's facing a challenge from Republican Diane Harris for the 86th House seat; state Rep. Natalie Manley, a Democrat, is being opposed by Republican Yvonne Bolton for the District 98 seat; both are Joliet residents; and Democrat Moira Dunn, of Shorewood, is vying against Republican Mark Batinick, of Plainfield, for the 97th House seat.
Voters will also be deciding if U.S. Sen. Dick Durbin will get six more years in Congress or if he'll be unseated by Republican challenger Jim Oberweis or Libertarian Sharon Hanson, and if U.S. Rep. Bill Foster (D-11th) will get a second term or be succeeded by Republican Darlene Senger. The 11th District includes all or parts of Joliet, Shorewood, Bolingbrook, New Lenox, Naperville, Aurora, Montgomery, Darien and Woodridge.
There are five statewide referendums on this election's ballot, an unusual situation that some have charged is a Democratic ploy to lure voters to the ballot booths. Two involving the Illinois Constitution – one to add a new section to the Crime Victims' Bill of Rights increasing victims' ability to enforce their rights in court and the other to add a new provision ensuring voters don't face discrimination on the basis of race, sex, religion, income or ethnicity – are binding. Three others – seeking to raise the minimum wage, include birth control in insurance coverage and increase taxes on millionaires for school funding – are advisory and will not become law if approved.
Will County contests
If you live in Joliet or New Lenox, you'll be asked to vote on park district referendums. For more details on those questions, see articles published elsewhere in this edition.
In Will County, in addition to choosing a new sheriff, voters must decide if Democrat Steve Weber will get another four-year term as treasurer or if Democrat Laurie Summers will replace him.
The other countywide officers up for election this time through – Clerk Nancy Schultz Voots and Regional Superintendent of Schools Shawn Walsh – are running unopposed.
The battle for Will County Board could be interesting if the 50-50 split between Republicans and Democrats shifts as a result of the election. In our area, two seats in each of these districts are open:
District 5: Republican candidates are Darren Bennefield, an Auroran appointed to replace Lee Ann Goodson, and Gretchen Fritz and Democrats Reed Bible, an incumbent from Plainfield, and Sheila Raddatz, of Plainfield.
District 9: Democrat candidates are Walter Adamic, an incumbent, and Lauren Staley-Ferry and the lone Republican is Annette Parker. All three are from Joliet. Diane Seiler-Zigrossi, of Crest Hill, did not seek re-election.
One of the most hotly contested races – if yard signs are any indicator – is between Will County Associate Judge Dinah Lennon Archambeault, a Republican who wants to win a newly created circuit court judgeship in the second subcircuit. Her Democratic opponent is lawyer Daniel Kennedy.
In the first subcircuit, Republican Dan Rippy, a Plainfield Village Board member, is facing off against Sherri Hale, of Bolingbrook, to fill the vacancy created by the retirement of Circuit Judge Robert Livas.
The battle for another newly created first subcircuit judgeship is being fought between Republican Dave Carlson, of Plainfield, and Democrat Diane Para, of Naperville.
Finally, there are seven Will County judges up for retention. They are: Amy Bertani-Tomczak, Susan O'Leary, Carla Alessio Policandriotes, Richard Schoenstedt, Sarah Jones and Jeff Allen.
Contact Karen Sorensen at Karen@TheTimesWeekly.com.