Kam's Kapsules: Weekly Previews That Make Choosing a Film Fun
For movies opening April 10, 2015
Kam Williams | 4/8/2015, 12:59 p.m.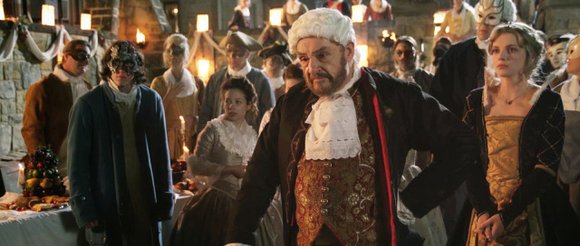 BIG BUDGET FILMS
Beyond the Mask (PG for action, violence and mature themes) Faith-based historical drama about a former mercenary (Andrew Cheney) for the British East India Company who attempts to redeem himself by thwarting a plot against the American Revolution. With Alan Madlane as Ben Frankiln, and John Arden McClure as George Washington.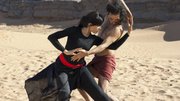 Desert Dancer (PG-13 for mature themes, violence and drug use) True tale, set in Iran, revolving around a young rebel (Reece Ritchie) who risked persecution by founding an underground dance company in a country where dancing is strictly forbidden. Co-starring Freida Pinto, Nazanin Boniadi and Tom Cullen.
The Longest Ride (PG-13 for battle scenes, sports action, sexuality and partial nudity) Screen adaptation of the Nicholas Sparks best-seller about a star-crossed couple (Britt Robertson and Scott Eastwood) whose path serendipitously intersects with that of a geezer (Alan Alda) given to reminiscing while waiting to be rescued from a car wreck. With Oona Chaplin, Gloria Reuben and Lolita Davidovich.
INDEPENDENT & FOREIGN FILMS
Below Dreams (Unrated) Millennial Generation drama highlighting the frustrating job search of three twenty-somethings, an ex-con (Jamaine Johnson), a single-mom (Leanne Miller), and an unemployed college grad (Elliott Ehlers), who are all looking for work in an inhospitable economic climate. Featuring Rebecca Matalon.
Black Souls (Unrated) Mafia saga, set in Italy, about two brothers (Marco Leonardi and Peppino Mazzotta) who run the family's international drug trade while another sibling (Fabrizio Ferracane) herds goats in their ancestral hometown nestled in the mountains along the Ionic seacoast. With Barbara Bobulova, Anna Ferruzzo and Giuseppe Fumo. (In Italian with subtitles)
Clouds of Sils Maria (R for profanity and graphic nudity) Midlife-crisis drama about an actress (Juliette Binoche) who agrees to portray an older character in the revival of the play that made her famous decades earlier in the starring role. Ensemble cast includes Chloe Grace Moretz, Kristen Stewart and Lars Eidinger. (In English, French, German and Swiss German with subtitles)
Dior and I (Unrated) Behind-the-scenes documentary about Raf Simons, the new artistic director at the Christian Dior fashion house. Featuring appearances by Anna Wintour, Jennifer Lawrence, Sharon Stone and Marion Cotillard. (In English, French and Italian with subtitles)
Ex Machina (R for profanity, violence, sexual references and graphic nudity) Sci-fi thriller about a corporate computer geek (Domhnall Gleeson) who runs away with a fetching fembot after developing a romantic attachment to the gorgeous android (Alicia Vikander) slated to have her memory banks erased. With Oscar Isaac, Corey Johnson and Sonoya Mizuno.
Freetown (PG-13 for mature themes involving violence) Inspirational tale of survival recounting a half-dozen missionaries' flight from Liberia to Sierra Leone to escape the bloody civil war raging in their homeland. Starring Henry Adofo, Alphonse Menyo and Michael Attram.
Kill Me Three Times (R for profanity, sexuality, nudity and graphic violence) Dark comedy revolving around an assassin-for-hire (Simon Pegg) who lands in a triangulated web of intrigue involving blackmail, murder and revenge after botching a hit on a wealthy man's (Callan Mulvey) philandering wife (Alice Braga). Cast includes Luke Hemsworth, Teresa Palmer and Bryan Brown.