Hot Dog Fest takes over Lincoln Park
The Chicago History Museum's Annual Festival Expands for Third Year, August 7 – 9
8/5/2015, 6:30 p.m.
Let your taste buds run wild at the Chicago History Museum's third annual Chicago Hot Dog Fest that sprawls out this August to include a full lineup of bands, hot dog history speakers, and hot dog vendors serving up their spin on the Chicago-style hot dog.
"The Chicago Hot Dog Fest started as a one-afternoon event in 2013," said Museum President Gary T. Jonson, "It is exciting to watch the festival's size and popularity grow each year."
The Chicago History Museum expands its annual family-friendly celebration into a three day event on Friday, August 7 from 11 a.m. to 9 p.m.; Saturday, August 8 from 11 a.m. to 9 p.m.; and Sunday August 9 from 11 am to 8 p.m., at the corner of Clark St. and LaSalle St. in Chicago's beautiful Lincoln Park neighborhood.
The classic Chicago-style hot dog, made exclusively with Vienna® Beef, will be the star of the festival. Enjoy tasty treats from vendors like Boricua Dog, Flashy Hotdogs, Chubby Wieners, The Abbey Pub, Chicago Classic, Select Cut Steakhouse, Cookers Red Hots, Fatso's Last Stand & Frank Meats Patty and many more.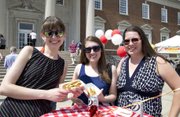 Chicago Hot Dot Fest's music lineup has something for all music lovers. Friday brings '90s cover band The Personnel, boogie rock group Ryan Powers & the Secret Weapons and wacky cover-band and Chicago favorite, Wedding Banned. Saturday's music lineup includes reggae band Roots Rock Society, swinging jazz and blues band The Flat Cats and Led Zeppelin tribute band Kashmir, among others. On Sunday audiences can go back in time with '60s throwback band Generation, enjoy Latin grooves with Guitarra Azul and rock out with classic rock headliner 97 Nine.
When you've filled up on hot dogs, head over to the Speaker's Stage for a taste of history from the city's leading hot dog experts, 12 to 5 p.m. Friday and 12 to 4 p.m. Saturday and Sunday. Joining the talent packed Speaker's Stage is Mustard Museum founder Barry Levenson for his talk, "Mustard: the King of Condiments," Friday, August 7 at 4 p.m. Museum Curator John Russick will also take to the stage for "Hot Doggin' Chicago," a talk that promises a special twist for audience members, Friday August 7 at 3 p.m.
On Friday Bill Savage, Northwestern University professor, tackles an infamous hot dog topping during his talk, "Ketchup: The Condiment of Controversy." Later that day Russell Lewis, the Museum's vice president and chief historian, addresses Chicago's Union Stock Yards. Saturday brings Rich Bowen, Loyola professor and author of "Hot Dog Chicago," and Bruce Kraig, author of "Man Bites Dog." Save room for Sunday's talk on the people behind Chicago's favorite hot dog stands by Vienna's own Bob Schwartz, author of 'Never Put Ketchup on a Hot Dog."
Visit chicagohotdogfest.com for a full lineup of vendors, music and speakers.
Families and kids can ketchup on craft activities, face-painting, rides and musical entertainment for kids in the Museum's Village. Visitors of all-ages can transform into a Chicago-style hot dog, compete with choice of condiments. Smile for a picture and share on social media with the hashtag #HotDogFest.
Admission to the festival is free. Discounted 'Early-Bird' food ticket packages are available online through August 6. Dog Dollars for food, alcohol, and non-alcoholic beverages will also be sold individually at the festival. For more information please visit chicagohotdogfest.com or call 312-642-4600.