Romeoville OKs permit for medical marijuana dispensary
Brock A. Stein | 8/6/2015, 9:14 a.m. | Updated on 8/6/2015, 9:15 a.m.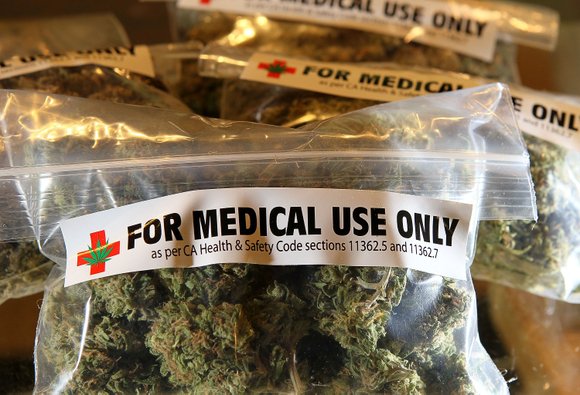 Romeoville officials approved a special use permit Wednesday for a medical marijuana dispensary that will be located in an industrial park on the village's east side.
Midwest Compassion Center will operate the dispensary at 1335 Lakeside Drive in the Marquette industrial Park. The company also has a dispensary set to open later this year in Shorewood.
Due to state regulations, dispensary locations must be at least 1,000 feet from the nearest school, day care center and residential area. The Romeoville location will be 1,363 feet from the nearest school and more than 1,400 feet from the nearest residence.
Its closest neighbor will be the Magid Glove facility on Naperville Road, and the dispensary will be located in an unassuming location, off the beaten path for much of the public, Mayor John Noak said.
"This is in the middle of an industrial park," Noak said at Wednesday's village board meeting.
Village officials spoke with some of the nearby business neighbors to gauge their feelings about the dispensary location, he said, and none objected.
Only customers who have been pre-approved through a physician will be allowed access to the site.
Nicole Jansen van Rensburg, chief education officer for Midwest Compassion Centers, said the facility would have a security guard during business hours and would employ other security measures, including motion detectors, smoke screens, panic buttons and security training for staff.
The facility will also employ a pharmacist onsite, van Rensburg said.
"Only those patients and registered caregivers are even able to come in," she said.
Medical marijuana products available at the site will include oils, flowers, edibles, balms and salves, she added.
Trustee Joe Chavez said the research he has done indicates that medical cannabis can be an effective treatment for a variety of ailments.
"It works, it's amazing what it does," Chavez said. "I'm glad to see it's available for people who need that medication."
Trustees considered but ultimately tabled an ordinance that would have added a 5 percent tax for all medical cannabis sales in the village.
Attorney Rich Vogel said the tax would apply to sales transactions between medical cultivation centers selling to dispensary locations within the village.
Noak said he preferred a wait-and-see approach on how other municipalities will tax dispensaries before moving ahead with the village's own tax.
Romeoville resident Jared Taylor who suffers from chronic pain caused by osteoarthritis said his condition is one of those recommended for treatment by the Illinois Medical Cannabis Advisory Board but has yet to be approved by the state. He currently manages his pain with traditional pain medications.
"However, I do believe that medical cannabis would be another tool to use to manage the symptoms," Taylor said.
Another 500 ash trees to be removed
In other business, the village approved a plan to remove about half of the 1,000 remaining ash trees ravaged by the emerald ash borer beetle.
Trustees approved a contract with tree removal service Arborworks that will pay them $97.50 per tree on a plan that isn't to exceed $50,000 for this year's budget.
Village Administrator Steve Gulden said that relying on village public works crews would take several years and would be outpaced by the rate that trees are dying. The village, he said, had tried a plan to treat some trees, but some have still succumbed to the bug.
"These trees are dying much more quickly than we anticipated," said Gulden, adding that the village would look at budgeting more to remove the remaining trees next year.
Many of the trees marked for removal are in the village's western subdivisions.
Contact Brock A. Stein at Brock@TheTimesWeekly.com.