Camera House to close after 38 years in Joliet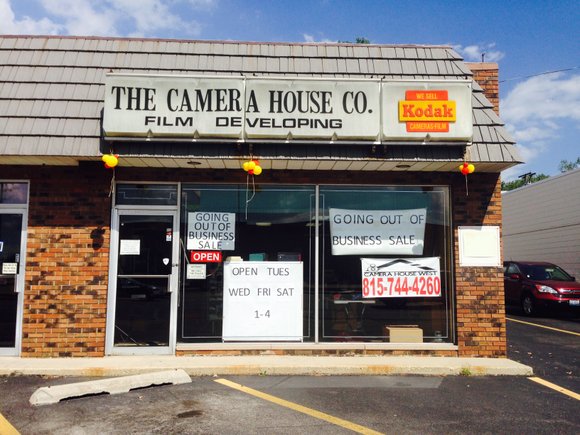 Camera House West, the last independently owned camera and photo finishing business in Joliet, will shut its doors at the end of August -- done in by illness rather than the changing world of technology.
Barbara Eberhard said her husband, Steven, had no intention of closing until he was diagnosed with cancer.
As he goes through treatments, she is holding the going-out-of-business sale that has the 114 N. Larkin Ave. store open 1 to 4 p.m. Tuesday, Wednesday, Friday and Saturday in an attempt to sell as much of what remains as possible before their lease ends Aug. 31.
"He never would have closed had he not gotten sick," said Eberhard, who's a photographer and part of Gallery 7 in Joliet.
Steven Eberhard, 56, started with Camera House when it opened in 1977, first as an employee and then -- 10 years ago -- as its owner.
(Camera House East on Jefferson Street closed when the original owners, the Morris family, sold to Eberhard.)
No doubt the business was affected by a huge upheaval in photo technology, which allows people to not only snap photographs using digital cameras and cell phones but to use their own equipment to edit and print pictures. The days when people shot photos and slides using 35mm cameras and needed photo stores to develop prints and make enlargements are long gone.
These days, not even Walgreens develops its own film and anyone who wants to make prints from their camera's digital disk can download them at an in-store kiosk or send them to a company via the Internet.
Camera House was not immune to those changes, Barbara Eberhard said.
"We have definitely been impacted by the big-box stores," she said. "We used to have two full-time employees, but we had to let them go."
But there was a niche the business was able to fill with customers who wanted photos restored, prints made from slides and old negatives, slides transferred to digital, movies transferred to DVD, and other services that are now specialty work, she said. They also sold cameras, frames, albums, camera bags, developing paper and other photography-related merchandise, and what's left is being sold at discounted prices.
It's the end of an era, Eberhard said, but not one her husband would have chosen voluntarily.
"It was just (Steven), bare bones, and without him, there's no store," she said.
Contact Karen Sorensen at Karen@TheTimesWeekly.com.