Kam's Kapsules: Weekly Previews That Make Choosing a Film Fun
For movies opening August 14, 2015
Kam Williams | 8/12/2015, 2:21 p.m.

BIG BUDGET FILMS

The Man from U.N.C.L.E. (PG-13 for violence, suggestive material and partial nudity) Henry Cavill takes on the title role in this adaptation of the hit TV-series, set in the Sixties, revolving around a CIA Agent who joins forces with a KGB operative (Armie Hammer) to prevent a mysterious criminal syndicate from acquiring nuclear weapons. With Alicia Vikander, Hugh Grant and Elizabeth Debicki.

Straight Outta Compton (R for violence, drug use, pervasive profanity, graphic sexuality and frontal nudity) Historical biopic revisiting the rise of the rap group N.W.A. in L.A. in 1987. Starring O'Shea Jackson, Jr. as Ice Cube, Corey Hawkins as Dr. Dre, Jason Mitchell as Eazy E, Aldis Hodge as MC Ren and Neil Brown, Jr. as DJ Yella. Support cast includes Keith Stanfield as Snoop Dogg, R. Marcus Taylor as Suge Knight and Marcc Rose as Tupac.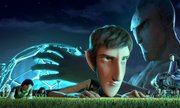 Underdogs (Unrated) Animated fantasy revolving around foosball game figurines who come to the assistance of a nerd (Matthew Morrison) who needs to win a match against the best soccer player in the world (Nicholas Hoult) in order to hold on to the woman of his dreams (Ariana Grande). Voice cast includes Taran Killam, John Leguizamo, Brian Doyle-Murray, Chazz Palminteri and Bobby Moynihan. (In Spanish and English with subtitles)

 INDEPENDENT & FOREIGN FILMS 


Air (PG-13 for violence, profanity and sexual references) Futuristic sci-fi about a couple of engineers (Norman Reedus and Djimon Hounsou) who represent the last hope for humanity after the planet runs out of oxygen. With Sandrine Holt, Paula Lindberg, Peter Benson and David Nykl.
Amnesiac (Unrated) Psychological thriller about an accident victim with memory loss (Wes Bentley) who wonders whether his wife (Kate Bosworth) might be lying about her true identity when he emerges from a coma. Featuring Richard Riehle, Patrick Bauchau, Shashawnee Hall and Olivia Rose Keegan.

Fort Tilden (R for profanity, sexuality, graphic nudity and brief drug use) A day-in-the-life comedy chronicling the frustrations encountered by a couple of BFFS (Bridey Elliot and Claire McNulty) bicycling to a beach in Brooklyn. With Griffin Newman, Nell Casey, Alysia Reiner and Reggie Watts.
The Lost Key (Unrated) Marital bliss is the theme of this documentary chronicling a middle-aged man's search for sexual fulfillment with a new wife in the wake of a traumatic divorce from his first.
Mistress America (R for profanity and sexual references) Buddy comedy, set in New York City, about a lonely college freshman (Lola Kirke) shaken out of the doldrums by her relatively-adventurous, soon-to-be stepsister (Greta Gerwig). With Seth Barrish, Julie Brett and Andrea Chen.
Meru (R for profanity) "Because it is there" documentary tracing the route taken by a trio of elite climbers as they scale the face of the Himalayas' Mount Meru.
Paulette (R for profanity and drug use) Bernadette Lafont plays the title role in this crime comedy, set in Paris, about a recently-widowed pastry chef who starts selling pot when she finds it impossible to survive on her meager pension after being forced to close their beloved bakery. Cast includes Carmen Maura, Dominique Lavanant and Francoise Bertin. (In French with subtitles)