New Will courthouse announced; city pledges $12.3 million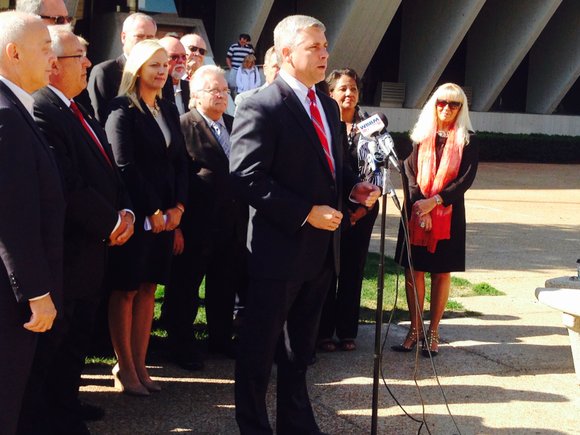 Construction of a new Will County Courthouse will begin by 2018, with the city of Joliet committing $12.3 million to the project to keep the building downtown, officials announced Friday.
Ensuring the new courthouse be built not just in Joliet but in the "city center" has been a big goal for newly elected Mayor Bob O'Dekirk and other city council members, who see the building not just as key to the district's stability but to its future development.
In the end, it was decided the city will pay $500,000 a year for the next 20 years in a cash donation and will waive $2.3 million in permit fees, hookup charges and other expenses the county would be required to pay the city as part of a new construction project.
That will be a relatively small drop in the bucket for a building expected to cost somewhere in the neighborhood of $150 million to $170 million.
But it's also a building that cannot be put off any longer, officials acknowledged.
"The county needs a new courthouse, and we will build a new courthouse that won't require us to raise taxes or overburden our residents," County Board Chairman Jim Moustis said.
Built in 1969, when the county's population was about 250,000, it was adequate for the handful of criminal defendants who come through daily and for the other business that people needed to transact, such as paying fees, obtaining records or dealing with civil matters.
However, Will now has more than 700,000 residents, and the building is overcrowded, poses serious security problems and is becoming dilapidated through age and overuse, officials said. It cannot accommodate all of the judges the county's entitled to so two two more associate judge positions remain unfilled.
Architectural firm Wight & Co. has starting putting together design options for the new building, which will be located at 50 W. Jefferson St., across the street from the existing courthouse. The former bank building on that site will be demolished to make way for the new structure.
Many factors, such as size and features, remaining undetermined and will have to be narrowed down once needs are weighed against costs, officials said.
Ideally, demolition could happen in 2017 with construction to follow either later that year or more likely 2018, Moustis said. The building will require two to three years to complete, he said.
Bonds will be sold for the work, with several income sources tapped to repay them without raising taxes, Moustis said. Among them will be the RTA tax fund, new state-authorized court filing fees, parking fee revenue and reserve money, he said.
They will also tap part of the $2 million in new revenue being generated by a tax increase implemented last year for capital improvement projects -- ironically, a fee that most of the Republicans on the board, including Moustis, opposed at the time.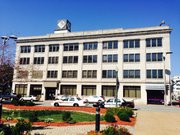 The city's portion of the cost will come from its general fund, also without raising taxes, said Councilman John Gerl, who helped O'Dekirk negotiate the deal with the county.
"The $500,000 per year, we believe, is going to fit into our operating budget," Gerl said.
Gerl acknowledged the city was facing a lot of future expenses, including the purchase of Evergreen Terrace, and the potential loss or reduction of such things as casino gaming income and the income tax money the state pays to the city. But he also said the city can't be cowed into doing nothing because of "unknowns."

"Those are things that could occur at any time, at any point," Gerl said. "We try to plan for those as best we can but we can't stop economic development in the city of Joliet because there are a lot of unknowns.
"There are a lot of positive things going on as well, too. Your knees can't knock just because something might go wrong."
Moustis said residents must keep an eye on the big picture and to remember that the county must have a courthouse that can be used in safety and ease.
"We all go in there," he said. "We need to create a safe environment for the everyday person, for the people of Will County, when they have to come here to do business.
"This is the peoples' house, not the criminals' house. It's an important project, and this gets priority."
Contact Karen Sorensen at Karen@TheTimesWeekly.com.