Italy introduces their oldest regions of wine
The U.S. debut of the Wines of Campania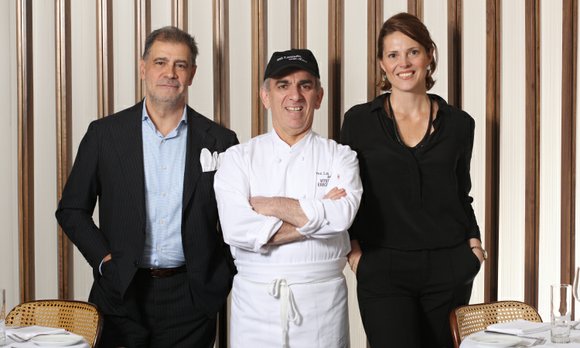 Although a few of the wines are currently available at restaurants and fine wine purveyors, this was the first concerted effort to present the wines as a cohesive entity.
Master Sommelier Fred Dexheimer conducted a guided tasting of the wines for a select audience with Chef Vito Gnazzo culinary team preparing a menu that paired nine of the wines with regionally inspired cuisine. This was an occasion that will live long in memory.
Winemakers were on hand to personally explain their wines and mingle with the guests.
First, a word about Campania. Located along the South Western Coast of Italy, Campania is located in the "shin" of the boot, anchored by Naples, which is its capital. The name "Campania" derives from the Latin phrase "Campania Felix," which roughly translates to "the fertile land." No name could be more appropriate. From the time of the ancient Greeks, in the 8th century BC to the 6th century BC. when the Etruscans absorbed the land into the Roman Empire, the region was known for cultivating what became the "cult" wine of the era, Falemum, a probable blend of Aglianico and Falanghina grapes, indigenous varietals that are grown in Campania to this day.
Campania is uniquely situated with a wall of mountains leading to a fertile valley with mineral-rich volcanic soil, that cascades to the Tyrrhenian Sea.
Mount Vesuvius erupted in 79 AD, covering Pompeii and Herculaneum with volcanic ash. Although an entire civilization and culture was nearly wiped out by the catastrophe, it later became a blessing in disguise. The region became primarily Phylloxera free because the deadly mites that nearly destroyed all of the viable grape crops in Western Europe didn't like ash, and therefore, bypassed the region.
Nine of Campania's most exciting wine producers descended upon the U.S. showcasing wines from the region. Among those present was Ilaria Petitto of Donnachiara of Avellino, specialists in Falanghina and Taurus wines, Michele Di Gregorio of Tenuta Cavalier Pepe, known for producing a local cultivar named Ravece as well as Coda di Volpe grapes, and Ferrante di Somma, a direct descendant of the di Marzo family, which founded Cantine Di Marzo in 1647. Di Marzo is one of Italy's oldest wineries and is the first producer of Greco di Tufo wine. The winery presented Anni Venti (20th Anniversary) Greco di Tufo Spumante DOCG NV, which is 100% Greco, which served as the afternoon's aperitif, and was also paired with the Stuzzichini (appetizer) of Mini mozzarella in carrozza con salsetta d'acciughe, Assaggini di torta "pasqualina." The wines of these producers are currently available in the U.S. and enjoying a prominent place on the wine lists of great Italian restaurants and on the shelves of the finest wine merchants.