Slammers win thanks to strong pitching, lots of hits
8/27/2015, 9 a.m.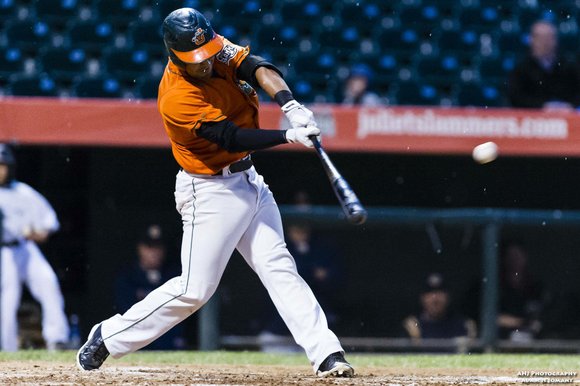 The Joliet Slammers provided this account of Wednesday night's game:
The Slammers (37-49) singled their way to a victory over the Schaumburg Boomers (35-51) with aid from a quality start from Andrew Strenge.

The Slammers' offense plated five off of Boomers' southpaw Peter Gehle in the third. SS Alfredo Rodriguez singled to left. LF Jeremy Nowak singled up the middle, SS Ryan Brockett's throw went awry which placed runners at second and third. 3B Mike Garza singled sharply up the middle driving in RBI's 47 and 48 to make it 2-0. Garza advanced to second on a wild pitch and crossed home on a C Joe Staley base knock. RF Carter Bell singled to left. DH Jack Cleary walked to load the bases. 2B Max Casper beat out the tail end of a double play ball to keep the inning alive, another run scored to push the lead to 4-0. CF Phil Bates finished off the scoring with an RBI single.

Schaumburg found a way to score against Slammers' starter Andrew Strenge in the sixth. LF Ken Kirshner walked and was driven in by a CF Kyle Ruchim double to right center making it a 5-1 game.
The Slammers got that run right back in their at bat. With reliever Kagen Hopkins in, Phil Bates was hit leading off the frame. Alfredo Rodriguez singled as well. Mike Garza placed a ball perfectly between three fielders in center to load the bases. Joe Staley would later fly out to right field, deep enough for Bates to score, 6-1 Joliet after six.

The Boomers crossed the plate again in the seventh. C Michael Valadez showed some power blasting a ball over the wall cutting the lead to four.

Joliet answered right back after Evan Boyd came in for the Boomers. Carter Bell singled and stole second base. Jack Cleary followed with a walk. Max Casper moved both runners over with a textbook sacrifice bunt. Phil Bates grounded out to second but it allowed Bell to cross the dish, 7-2 after seven.

With Pat Dyer on the mound for the Slammers in the ninth the Boomers salvaged another run. 1B Willi Martin and pinch hitter Ty Nelson traded places with doubles to make it 7-3. Dyer would settle down and record the three outs he needed to end the game.

Our M & M Bank Player of the game was Andrew Strenge who went seven innings, giving up two runs on six hits, walking one, striking out seven and earning the win (7-7). Peter Gehle got the loss for Schaumburg (1-5). Joliet will try to win the series tomorrow night at 7:05pm, make your way out to the park or catch the game live on jolietslammers.com/gameday/slammervision/
Notes: Hunter Ridge's hitting streak snapped at eight games after his 0-for-2 pinch hit night…Mike Garza extended his hitting streak to six games…Mike Garza has a three game RBI streak…The Slammers registered 14 hits none of which were for extra bases… This is the third outing Andrew Strenge has struck out seven hitters this year…Dan Tobik's scoreless relief appearance puts his ERA at 0.91 with two earned runs in his 19.2 innings pitched with the Slammers…