Area children shop for holiday gift giving
Brock A. Stein | 12/9/2015, 7:03 p.m. | Updated on 12/14/2015, 7:27 a.m.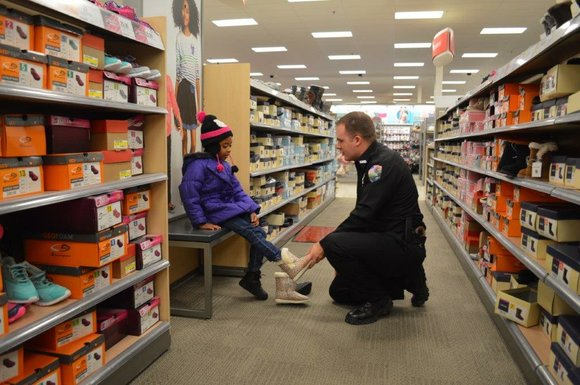 When he went through his academy training, Shorewood police officer Adam Beaty probably never encountered a scenario like the one he found himself in on Sunday.
Armed with a Christmas shopping list and a 5-year old girl in tow, Beaty was among the over 18 Shorewood police officers and support personnel who volunteered their time as part of the village's annual Shop with a Cop program.
Shorewood officers and other volunteers helped 18-area children shop for presents at the Target store, 1113 Brookforest Avenue.
Beaty was helping 5-year old Domineek, a student at Walnut Trails Elementary, look for new winter gloves and boots before shopping for others on her list which included something for her dad and a toy for her dog, Midnight.
In addition to their own personal shopper in blue, each child received a budget of $150 which is funded by donations from the community said Shorewood Police Chief Aaron Klima. Klima said that the village asks for donations through a notice in residents' water bills and that they have been "ultra-generous" in their support. He noted that some shoppers who saw the children with their police escorts even made donations the day of the event.
"The community has been wonderful in their support," said Klima.
Each year, children ranging in age from kindergarten through 5th grade are selected for the program based on need. Those selected are assigned an officer who escorts their child in the store to help them shop for themselves and family members. In addition to toys, young shoppers also purchase new jackets, boots, hats or gloves as well.
Shorewood D.A.R.E. officer Kim Giugler said that some members of the community even made single donations of $250 to $500 to support the event.
In addition to the shopping trip, volunteers from the Shorewood Glenn Service Group were standing by to wrap presents and afterward the kids were headed to village hall for a lunch from Savarino Pizza. Residents from the Timbers of Shorewood retirement community also made holiday cookies for desert.
Klima said that each child's family would also receive a gift card to help with holiday expenses as well.
In nearby Plainfield, police officers there were also gearing up for the village's own Shop With a Cop program.
Trustees recently approved the purchase of just under $10,000 in Target gift cards for their own event, which will take place on December 18.
Commander Ken Ruggles said that the village worked with Plainfield School District 202 to identify the children for the program.
"Each school nominates children from the elementary and the high school level," said Ruggles who noted that the police department was anticipating to help about 38 kids this year.
Funds for the event each year come from the Plainfield Police Department's charitable fund he said and through other fund raising events held throughout the year.
Ruggles said that the outing is always a "heartwarming event."
"It's a wonderful thing for all of us as well every Christmas to remind us what the purpose of it is," said Ruggles.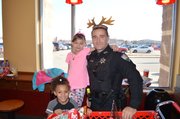 New Lenox police officer and Plainfield trustee Brian Wojowski said that he's participated in the program in New Lenox before and was heartened to see such young children putting others before themselves.
"Children will go out there with their Christmas lists and very rarely will they buy stuff for themselves," said Wojowski, ""It's always 'what can I get mom?'"
Other municipalities in Will County that hold their own Shop with a Cop event includes Joliet, New Lenox, Romeoville, and Lockport.
@BrockAStein