Will County Medical Cannabis dispensary now open for business
Brock A. Stein | 12/10/2015, 11:06 a.m. | Updated on 12/10/2015, 11:09 a.m.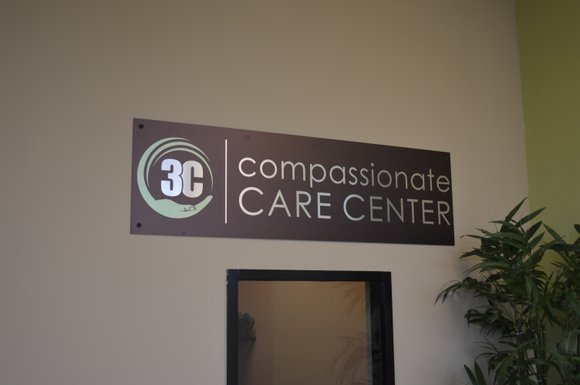 The first Will County-based medical cannabis dispensary located in Joliet opened its doors at 11 a.m. Monday morning.
3C Compassionate Care Center owners Hugo and Traci Fernandez said that the opening was the end result of about 2 years of hard work and preparation.
Their goal they said is to "help as many people as possible" with this newly available medicine.
The couple decided to apply for a medical cannabis dispensary license after Traci was suddenly left paralyzed by an unknown ailment overnight in 2008. She said she went to bed one night on Labor Day weekend and woke up paralyzed the next morning.
Now restricted to a wheelchair she said she suffers from tingling and neuropathic pain in her legs. Both symptoms can be managed through the use of medical cannabis however owners of dispensaries aren't allowed under state law to get a patient ID card.
"We're hoping that changes," said Traci.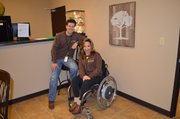 The couple said that their motivation for starting the dispensaries was to help fund research for conditions like hers which they said is like an accelerated form of MS.

As such, 20% of the profits from their dispensaries will be donated to research as well as another 5% that will be donated to the communities where the dispensaries are located in Will and DuPage Counties.
Her husband, Hugo, was skeptical at first when his wife first proposed the idea of opening a dispensary. The couple owned a web marketing business previously and it was through research that they both learned more about the medicinal value of cannabis.
The couple also hopes that the state review process which is held every 6 months will help more patients suffering from ailments that aren't currently covered under the law.
"We're hoping that more conditions can be added," they said.
The couple said that the dispensary at 1627 Rock Creek Blvd, opened to brisk business on Monday as they worked out the kinks in the system. The state wouldn't allow them to run a test transaction before opening day.
"It's been a learning experience," said Hugo.
Hours for the Joliet location will be Monday, Tuesday, Thursday and Friday from 11 a.m. to 7 p.m. and Saturday from 10 a.m. to 5 p.m.
The state of Illinois has issued a total of 15 licenses since the Medical Cannabis Pilot Program officially started on November 9.
The state law, which took effect in 2014 and expires in 2018, allows adults to obtain up to 2.5 ounces of marijuana every two weeks if they are using it to treat one of 40 specified medical condition.

It was also recently announced that from January 1 through January 31, 2016, the State of Illinois would allow residents to petition the department of public health to add "debilitating medical conditions or diseases to the Medical Cannabis Patient Registry Program." Petitions must be postmarked by the above dates and sent to:
Illinois Department of Public Health
Division of Medical Cannabis
535 W. Jefferson Street
Springfield, IL 62761-0001