Residents voice fears about Joliet's plans for Evergreen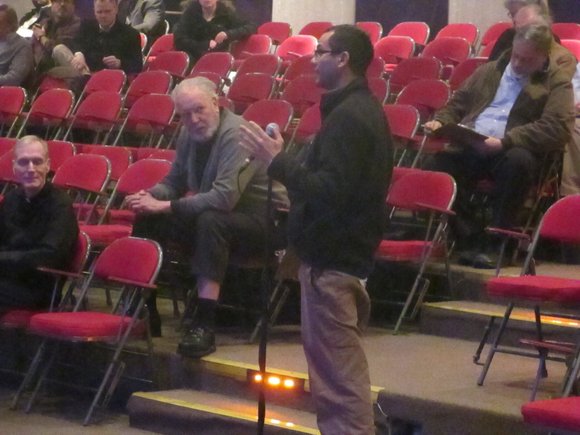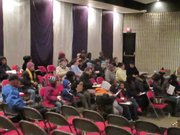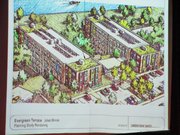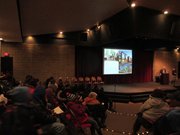 Some Joliet residents said Thursday they're leery of city's intent when it comes to the future of Evergreen Terrace, and fear the goal is to push black people out of Joliet.
Speaking out at a city meeting to collect input on redeveloping the apartment complex once Joliet takes ownership, audience members had many questions about where Evergreen residents would live if buildings were renovated or torn down and if they would be forced to move out of Joliet, even on a temporary basis.
"I want to know that people (will) be respected," said the Rev. Craig Purchase, president of Joliet Rainbow PUSH. "I know the city wants this great piece of property ... the history of the city is out there already."
Abraham Mwaura, a West Side resident, was far more blunt about that "history."
"I assume you know you're walking into a highly racial situation," Mwaura told Holsten Property representatives, which will manage the complex on the city's behalf and oversee its renovation.
"The city has essentially demonized the people (who live in Evergreen). ... They've said, 'These are the whores and prostitutes of the people who go to Stateville.' They've talked about these people as dogs and rats.
"The intent is to push out black people in order to consolidate white power. I don't know how else to say it."
The comments from both men elicited applause and shouts of "amen" from about 50 Evergreen Terrace residents who attended the meeting at Billie Limacher Bicentennial Park, across the street from the apartment complex.
The city of Joliet filed a lawsuit nearly a dozen years ago seeking to use condemnation to take control of the property, which is blighted and crime-ridden. A judge granted the city's request last year, and a trial to set a purchase price is to start March 10 if the two sides cannot reach a price agreement.
Because Evergreen residents receive housing subsidies through the U.S. Department of Housing and Urban Development, federal rules must be followed in regards to the temporary and permanent relocation, Peter Holsten told residents in an effort to allay fears.
Holsten's company has been hired to manage Evergreen once it takes ownership of the seven-building, 356-unit complex. The city will rely on the firm to not only guide them through the renovation process but to provide residents with social services such as education assistance, job training, and youth and senior programs.
The goal, Holsten said, is to improve quality of life, not to run people out of town.
"I don't want my name bloodied like that," said Holsten, who has been in the property management and renovation business for 40 years. "We won't say, 'Here's your voucher, (go find somewhere else to live), good luck.
"You're not being put out, and you can take that to the bank," he said.
That said, however, there will be rules put in place, drug tests administered and standards that will have to be met for those who do live there, Holsten said.
And while it's likely some buildings will be torn down and the overall number of apartments reduced, Holsten Properties will also be building new units in other parts of town to accommodate people who are displaced, he said.
"Our intent is to build replacement housing before we take on the apartments at Evergreen Terrace," Holsten said. "Holsten isn't about how many can we get rid of; it's about how many can we keep."
The Chicago-based firm has a long history of constructing new or renovating existing buildings in which they create a mix of lease and private-ownership units, some of which are rented at market value and others at subsidized rates. Some complexes have buildings just for seniors or for grandparents raising grandchildren.
One of their best-known ventures was constructing new buildings into which former Cabrini Green residents were relocated after the huge Chicago public housing complex was demolished.
Thursday's meeting was the first step in creating a plan for Evergreen Terrace, and future gatherings will be scheduled as the plan evolves, Holsten said. No work is likely to start for at least a year to a year and a half, he said.
Evergreen residents who attended the meeting were asked to complete a survey evaluating such things as parking, entrances, landscaping, the community center and other parts of the apartment complex. Questions were also asked about how frequently they use Bicentennial Park, what events they would like to see and what amenities, such as walking paths, community gardening and recycling, they would use.
The questionnaires are also be available on the city's website, visitjoliet.org, and at Joliet City Hall, 150 W. Jefferson St.
Contact Karen Sorensen at Karen@TheTimesWeekly.com.