Lyric's Tosca: A Revolutionary new take on a beloved old friend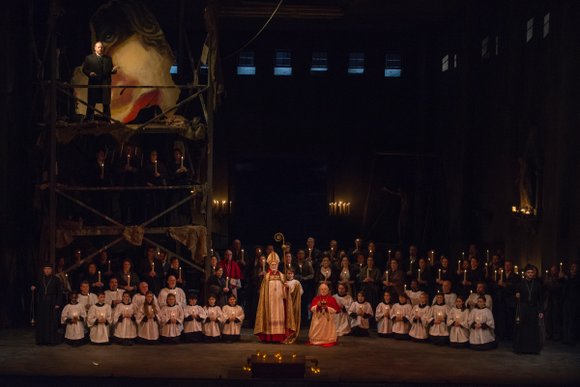 Puccini's beloved Tosca was part of Lyric Opera's opening (1954) season and has been produced 17 times since. Director John Caird's new production for this 60th anniversary season shines a light on the opera in a way that makes us reexamine what we thought we knew and makes the old very new. The production's first cast finished last week, but a new cast will take the stage February 27 through March 15.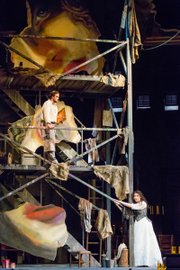 Mr. Caird and his scenic and costume designer Bunny Christie have gone back to Victorien Sardou's play La Tosca (1887) for inspiration and to clarify details. Floria Tosca started life as a poor shepherd girl who was taken in hand by the Benedictines who prepared her to be a nun. However, her glorious voice caused the composer Cimarosa to lobby for her future as an artist; it took the Pope, a music lover, to settle that tug of war. At the time of the opera, she is a Bernhardt-like Diva, but has not lost touch with her roots, superstitions, or passionate love and jealousy for Cavaradossi. She is costumed in white or gauzy powder blue, as is the the light-bathed apparition of a child Madonna – her younger self? – appears at times of stress, i.e. before she stabs Scarpia or in Act III.

The action has been moved to the 1880s Venice depicted in John Singer Sargent paintings: a dark, mysterious world full of black-clad figures, very much a time of war. The church (Act I) looks is damaged, perhaps bombed. The prison area has a hole in the ceiling – from which hang an assortment of prisoners – and a hole in the far wall, which shows a blue sky, and from which Tosca falls after stabbing herself as she had stabbed Scarpia in Act II (she is anatomy challenged both times).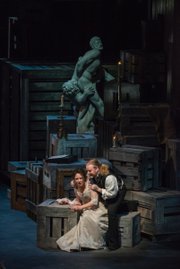 But it is Scarpia's lair that gives the underlying, unifying statement of Mr. Caird's intent. The Baron's lair is not the expected opulent apartment in the Palazzo Farnese, but a decrepit ballroom used as a storeroom for stolen statues and other art, an unmistakable reference to the Nazis in WWII. The prisoners' concentration camp inspired garb underscores this point and brilliantly refocuses a subtext to what is moral in a time of war. And it transforms Scarpia from an embodiment of evil to a functionary exemplifying the "banality of evil." Tosca's and Cavaradossi's love becomes both more and less important as a more universal element. The place of the Church, in the opulent Te Deum in what is essentially a war zone, becomes even more problematic.
Conductor Dmitri Jurowski and the three principals: Tatiana Serbian (Tosca), Brian Jagde ( Mario Cavaradossi) and Evegeny Nikitin (Scarpia) were all making their Lyric debuts. They were well-matched vocally. Ms. Serbian, who was introduced to Chicago audiences as Riccardo Muti's Lady Macbeth, is an elegant singer whose pitch acuity was wonderful, but who was more convincing as Lady Macbeth (in concert). When Mr. Jagde didn't push, his voice was splendid (somewhat in the Calleja manner); when he did, he tended to go sharp. Mr. Nikitin was hampered, I think, by this characterization: his singing was correct but bland. Mr. Jurowski will conduct the second cast, too. Hopefully, he will grow more into his interpretation, find more organic tension in the score and overpower his singers less.