City issues storm, cold warning; snow ban in effect overnight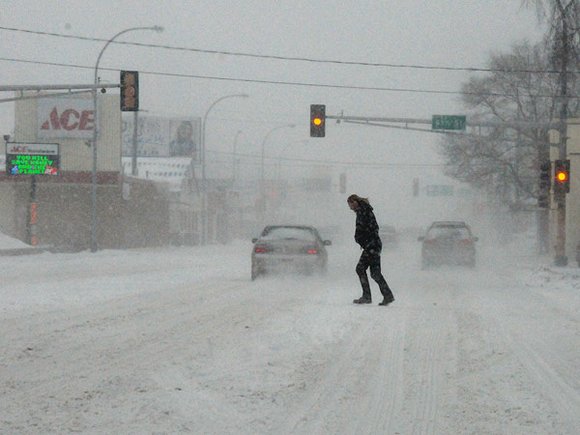 There's a winter storm a comin', and it will be bracketed by periods of single-digit temperatures.
As a result, the city of Joliet has opened its warming centers to help those without heat take refuge from the harsh elements and is reminding residents of the rules governing the city's snow parking ban.
First, the forecast: The high of 9 degrees today will drop to a low of 7 tonight before temperatures start climbing up and snow starts falling, according to the National Weather Service in Romeoville.
Anywhere from three to seven inches of accumulation is expected before the sun returns and the wind starts blowing. Tuesday's forecast calls for a high of 12, but it will feel more like 6 below, the weather service said. Tuesday night it will actually be 6 below, but winds of 20 to 30 mph will make it feel like 23 below.
The winter storm warning kicks in tonight and will be in effect through 7 a.m. Tuesday. The city of Joliet hopes to have all streets cleared of snow 12 to 18 hours after the snow stops falling.
This is the city's snow parking ban:
"All vehicles must be moved off of public streets until the City of Joliet's snow plow trucks have had a chance to plow the snow on the street. Once the snow plow trucks have cleared the street by your home or business, you may move your vehicle back to the street. Some older neighborhoods in Joliet do not have adequate off-street parking options. In those areas, residents are encouraged to seek permission from neighbors who have off-street parking spaces and other parking options such as commercial or church parking lots that will allow streets to be clear of vehicles for all snow clearing efforts to be effective. The Joliet Police Department will have the option of issuing a parking ticket to the owner of a vehicle left on a city street during a snow event as well as having the option of having the vehicle towed, or both. All towing and storage costs will be the responsibility of the vehicle owner."
For more information, call 815-724-3650.
The city's warming shelters are located at:
Joliet Shopping Mall, 10 a.m. to 9 p.m. Monday to Saturday., 11 a.m. to 6 p.m. Sunday;
Daybreak, 611 E. Cass St., overnight warm shelter will be open;
MorningStar Mission, 350 E. Washington St., overnight warm shelter will be open.
The city also provided this information for what to do during winter storms and extreme cold:
Please remember to check on the elderly, those with medical conditions, and those with special needs during periods of extreme cold weather.

When at home:
• Stay indoors in a heated room as much as possible.
• Hang blankets over windows at night, but let the sun shine in during the day. Cover cracks around doors with rugs, newspapers, towels or other such material.
• When using alternative heat from a fireplace, wood stove, space heater, etc., use safeguards and ensure proper ventilation to avoid carbon monoxide poisoning.