NHRA Nationals Kicks Off This Weekend
7/8/2015, 3:41 p.m.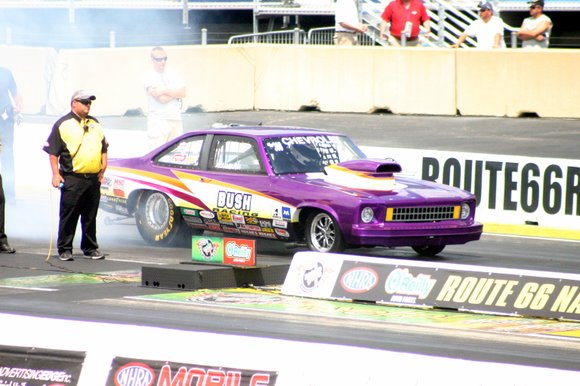 Once a year, the biggest stars in drag racing roar down the drag strip at the Route 66 Raceway Nationals while reaching speeds of over 300 MPH. The speed, noise, smell and excitement draws drag racing enthusiasts from across the country, but this year race fans will have even more to do before, after and in between the four-second Nitro runs.
The NHRA is world-renowned for the access at its races, where every ticket serves as a pit pass. That means in addition to viewing races from the grandstands, race fans can also stand within feet of the crew chiefs to smell the nitro as they rebuild engines, or get an up-close look at their favorite driver for some autographs. Route 66 Raceway is looking to take that a step further in 2015, with a new lineup of fan activity.
On Saturday, July 11, Route 66 will host "Lemonade with the Ladies of NHRA" from 2:30-3:00 p.m. For $20.00, a limited number of fans will enjoy an ice cold glass of lemonade with several of NHRA's female stars, as they discuss their current season and personal racing history.
On Sunday, July 12, Championship Sunday kicks off with Pop Tarts with the President, a youth-focused event featuring Track President Scott Paddock. Dash, the Route 66 Raceway mascot and other special guests will attend the 30-minute session in the Route 66 display area for pictures, autographs and more. Pop Tarts with the President is free of charge, and will provide all the energy needed for the Sealmaster® Track Walk at 10:00 a.m.
Race fans looking for an escape from the heat and an upgraded club experience, grab a spot in Club 66. Limited seating is available, and Club 66 provides a great view for Two Nights of Nitro and jet car finales. Your ticket includes complimentary food and beverage (excluding alcohol), two meals and light snacks daily, three beer drink tickets per day (21+ only) and free preferred parking for every two tickets for $220 per day.
Indoor seating is also available for $99 per day. Food and beverage is not included in this ticket, however you may bring concession food purchased from our vendors up into the climate-controlled suite to enjoy.
The Route 66 NHRA Nationals officially kicks off on Thursday, July 9th with Nitro Night in Downtown Joliet. Nitro Night is an exhilarating event that will give you the chance to meet NHRA drivers, enjoy vendors, hot food, live music by Soul Motion, and ice-cold beverages. The event is free of charge, and takes place on Chicago Street in Downtown Joliet from 5:00-10:00 p.m.