Slammers take second game from Frontier Greys
6/5/2015, 10:40 a.m.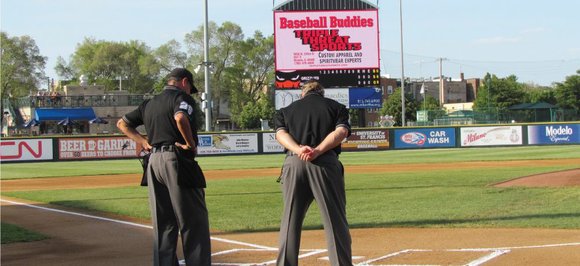 The Joliet Slammers provided this account of Thursday night's game:
Some timely hitting and patient at bats help the Joliet Slammers (8-10) top the Frontier Greys (6-10) by a 10-6 final on Thursday night, sealing the series victory.
After the Greys scored a run in the second off pitcher Andrew Strenge, the Slammers came back with four runs in the bottom of the inning against Kyle Bogese. 3B Mike Garza led off with a double to center and advanced to second on a wild pitch. With one out RF Phil Bates walked and catcher Jack Cleary drove him in with an RBI double. 2B Adrian English walked to load the bags, and LF JD Williams reached on a base-on-balls, scoring Bates and putting Joliet up 2-1. With two outs and the bases loaded, Alfredo Rodriguez reached on an error and English scored. DH Russell Moldenhauer then walked to score a run, making it 4-1 Slammers after the second inning.
Joliet added on in the fourth inning against Bogese. English walked and reached second on a wild pitch. Williams moved him to third on a groundout to first, and English would come around to score on a wild pitch with Charlie White up. That gave the Slammers a 5-1 lead.
Strenge worked a scoreless third, fourth and fifth innings, but ran into some problems in the sixth. With one out, 1B Scott Carcaise walked and the 3B Brandon Tierney moved him to third with a double. A throwing error by Rodriguez at short allowed Carcaise to score, and with CF Matt Wiliams on first and 2B Jose Sermo up, Strenge tried to pick off Williams. His throw went up the right field line allowing Tierney to score. With the score now 5-3, Strenge struck out Sermo, but C Mike Falsetti singled to drive in a run, cutting the Slammers lead to one. David Kubiak came in for Strenge, walked the first batter he faced and retired the second to get the Slammers out of the inning.
Joliet got those three runs back in the in the bottom of the inning. Cleary led off with a walk and was moved to second by English. Williams walked and after CF Charlie White struck out, Rodriguez walked to load the bases. A Moldenhauer double scored two, and with Ridge up, Field Manager Jeff Isom called for the double steal. While Moldenhauer advanced to second, Alfredo Rodriguez crossed home and the Slammers led 8-4 after the inning.
The Greys came back with two runs in the top of the seventh inning, one earned, off David Kubiak. The Slammers responded with a pair in the bottom of the inning. With two on, Jack Cleary singled to score one. With Adrian English up, a run scored on a wild pitch, putting the Slammers up 10-6 after the inning.
Reliever Kevin McNorton took it from there, tossing a scoreless eighth and ninth innings. Andrew Strenge (2-1) earned the win, giving up two earned runs in 5 and 2/3 innings pitched. Jack Cleary had a multi-hit game, driving in two to earn our M&M Bank Player of the Game title. The Slammers play the Evansville Otters (12-6) on Friday. It Star Wars Night and there will be fireworks after the game. First pitch is at 7:05pm.