Police training to use heroin OD reversal drug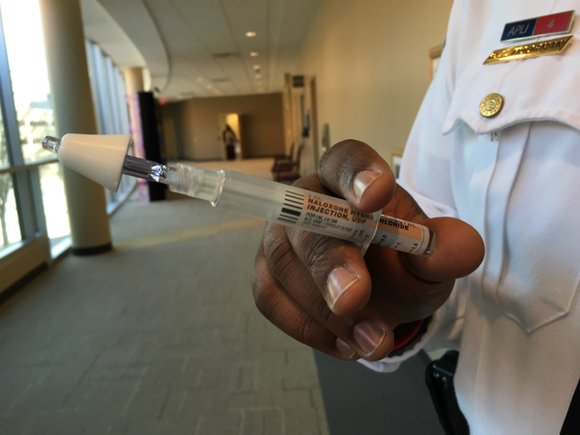 Six people in Will County have died from heroin overdoses since March 3, nearly twice the number for the same time period last year.
The victims gun the gamut – four whites and two blacks, one woman and five men, the oldest 53 and the youngest 25, three from Joliet and the others from Crest Hill, Romeoville and Braidwood, according to statistics kept by the Will County Coroner's Office.
The good news, if you can classify any of this as good, is the number of heroin overdose deaths dropped from 38 in 2013 to 35 in 2014, the numbers show. There were 53 in 2012. And unlike 2012 and 2013, when many of the victims were high school students, no one under the age of 21 has died from a heroin OD in the last two years.
The problem is the deaths keep coming, despite the education efforts, the scare of heroin lookalike drug Krokodil and the growing number of busts that are taking at least some of the supply off the streets. Will County Sheriff Mike Kelley says his gang unit has confiscated nine kilos of heroin – nearly 20 pounds – in the last 20 days. Given that one hit of heroin is about a gram and costs anywhere from $10 to $25, that's a dent, although no one knows the true number of users out there or how much they're consuming on a daily basis.
The only tool in law enforcement's arsenal, beyond education and busts, is Narcan, the drug that's an antidote for someone who's in the throes of a heroin overdose.
Last week, 164 police officers and sheriff's deputies from Will County and seven municipalities, including Shorewood, Romeoville and New Lenox, were trained in how to administer the drug, and they in turn will teach others in their departments. Earlier this year, 74 officers from Bolingbrook, Lockport and seven other towns received the same training, as did officers from Joliet Junior College and Lewis University in Romeoville.
"If we can stop someone from dying, there is always hope that the individual will seek help and lead a full life," Kelley said. "We are taking the necessary steps to equip our officers with another tool as part of law enforcement's promise to protect and serve the public…to preserve life."
Narcan, the brand name for a drug known as naloxene, is described as a "pure opioid antagonist," meaning it can completely or partially reverse the effects of heroin when someone is in an overdose situation. It's administered as a shot, typically through the nasal passage.
Up until 2012, most law enforcement agencies opted not to use Narcan because officers could be held criminally liable were something to go wrong. The passage of the Good Samaritan Law removed that onus for anyone making a "good faith effort" to offer medical help in an emergency situation.
"Four years ago, we began this effort to raise awareness about heroin abuse in our communities," Will County Executive Larry Walsh said. "We have seen a decrease in the number of overdose deaths, which we attribute to the increase in knowledge about the dangers of this horrible drug. The Will County Narcan program will help save lives and allow people to get the treatment they need."
Heroin accounts for the vast majority of overdoses in Will County – 35 of the 46 ODs reported by the coroner's office in 2014. Of the 12 overdoses so far this year, six were tied to heroin.
It seems no part of the county has been immune, with deaths in 2014 reported in not just Joliet but Wilmington, Crete, Plainfield, Crete, Lockport, Frankfort, Bolingbrook, Romeoville, Monee, Channahon, Mokena, Naperville and New Lenox.
There's no easy solution, Kelley admits.
"With these concerted efforts, along with the Narcan training today, we are working pro-actively to combat this issue."
Contact Karen Sorensen at Karen@TheTimesWeekly.com.