Council candidates weigh in on crime, jobs, courthouse construction, more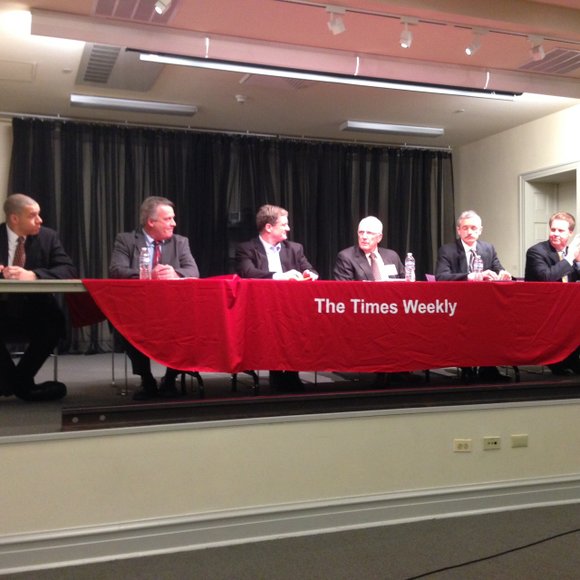 Joliet City Council candidates in districts 1, 2 and 3 faced off Wednesday in an election forum held by The Times Weekly, and made it clear they were not all on the same page when it came to the issues with one exception: Taxes.
Or more specifically, no new taxes.
Although the city council is going to deal with some costly questions in the next four years – how to pay for the purchase of Evergreen Terrace, how to replace as much as $7 million in the budget if the state reduces income tax sharing, how to provide financial incentives to keep the Will County Courthouse downtown – each of the six candidates in attendance said other avenues, such as budget cuts, would have to be taken because they would not consider a tax increase. (The only candidate not to participate was Roger Powell, who's running in District 2.)
Similar forums will be held at 6 p.m. Thursday night for the Joliet council candidates in districts 4 and 5 and at 10 a.m. March 28 for the three mayoral candidates. Both are free and open to the public, the former being held at the Joliet Area Historical Museum, 204 N. Ottawa St., and the latter at Billie Limacher Bicentennial Park, 201 Jefferson St. They will also be streamed live and posted afterwards at www.thetimesweekly.com.
What follows is a rundown of the topics discussed and each candidate's position on the issue:
EIGHT-DISTRICT COUNCIL
Do you support a change in the council structure that would replace the three at-large seats with three new district representatives?
District 1 incumbent Larry Hug: He said he believes that if residents want a change in the setup of the council, they should put the issue on the election ballot and choose the form of government they want. "My personal opinion doesn't matter," he said. "Let people vote."
District 1 candidate Terry Cottrell: He said he supports residents' right to organize and make a change in the council structure, although he's not certain it's needed – at least not in the district he would represent. However, he grew up in District 5 and said he might feel differently if he still lived there.
District 2 candidate Brett Gould: Supports the current system because he likes that he can cast ballots for five council representatives – his district council member, three at-large members and the mayor. "I think there's room for discussion about a better way to do it, but I'm not sure eight is the right answer."
District 2 candidate Pat Mudron: Likes the current arrangement, which allows him to vote not just for his district representative but also for three at-large council members and the mayor – in other words, the majority of the council. However, he'd be open to hearing more about the eight-district concept.
District 3 incumbent John Gerl: Doesn't favor a switch to an all-district council because the current setup allows residents to not only choose a district representative but the three at-large representatives and mayor. Under an eight-district council, they would choose just one. However, he would be open to the idea of one at-large seat chosen by East Side residents, a second chosen by those on the West Side and a third that would be elected by all residents. He also added that at-large council members offered a recourse to residents who are unable to get a problem solved through their district representative.
District 3 candidate Ray Polikaitis: Supports the concept of an eight-district council because the current districts are far too large to be adequately represented by one person. If a council member proves unresponsive to a resident's problem, they should vote him out in the next election.
JOB CREATION
What does the city need to be doing to attract businesses that offer high-paying jobs?
Hug: The city needs to hire an economic development director whose primary goal is to find those businesses with high-paying jobs and bring them here, he said. He said he believes there is a way to restructure the existing city administrative staffing that would allow for the creation of a new position without requiring more money to be spent.
Cottrell: The key is to determine those types of jobs that pay well – computer engineers, information technology and the like – and go after them aggressively, he said. The city should work with local college officials to find out what jobs are lucrative and growing and use that information to create a plan to attract businesses that will bring them here, he said.
Gould: The city needs to get aggressive in terms of marketing itself and courting those businesses that will create high-paying jobs, he said. Interstates 80 and 55 are prime locations for technology corridors and corporate offices locations, and many other towns have exploited this very successfully, he said. The mindset in which "we see ourselves as being in second-place" has to change, he said.
Mudron: Good-paying jobs are important, but he welcomes all types of jobs, he said. It's important to remember, too, that many people earn money elsewhere but they live here and spend that money in Joliet, he said.
Gerl: He said he welcomes any new job that comes to Joliet, whether it provides a minimum wage or a living wage, because there is a need for both. "I don't think we should discount any job," he said. And all new business, regardless of whether it's a fast-food restaurant or a huge office building, creates the need for good-paying construction jobs, and that's very important, he said.
Polikaitis: The city creates "inordinate bureaucracy" and "too many hurdles" for businesses that want to build or expand here, and that's got to stop if Joliet is to grow its economy, he said. The council needs to create an environment that "makes this city more attractive to big business," he said.
COURTHOUSE INCENTIVES
Should the city be paying Will County an incentive to build a new courthouse in downtown Joliet? If yes, where will the money come from?
Hug: He said he believes the county is committed to downtown given that they've already purchased the First Midwest Bank building on Jefferson Street as the future location; to build elsewhere in the county would cost another $30 million to $40 million. That said, he said the city can help the project by offering breaks in the form of waiving construction fees and other things the county would have to pay to the city, ultimately saving them millions without requiring the city to pay a cent.
Cottrell: He said he'd review the city budget to find places where new money could be found that would help assist the county in paying for a new building. He said he believes there are opportunities in which costs between city departments could be shared and that would result in savings.
Gould: It's imperative that city ensures the courthouse stay in downtown Joliet, he said. There are revenue sharing measures – income from downtown parking is one – that will allow the city to help defray the county's expense, he said.
Mudron: He said he believes the council needs to meet with the city manager and other city administrators to ask what their recommendations are for finding ways to help the county. These employees are paid for their expertise in such things, and the council needs to seek their advice, he said.
Gerl: Joliet can provide millions of dollars in incentives to the county by waiving fees – construction permits, tap-on fees and others – they would otherwise have to pay, he said. That won't cost the city a cent but will save the county a great amount, he said. Beyond that, the council cannot afford to neglect the downtown – "they want to see we're investing in ourselves," he said.
Polikaitis: "Quite honestly, (the county) probably has us over a barrel," he said, and there's not much alternative other than to find money to help underwrite the cost of a new courthouse because Joliet can't afford to lose it. He said he advocates going back to the budget and finding ways to find money that can go to the project.
CRIME
What should the council be doing to combat the crime the city's experiencing, specifically 10 murders since Thanksgiving and shootings that are targeting houses, cars and people on the street?
Hug: He said he is a big supporter of the city's Neighborhood-Oriented Police Team, which he voted to help restore and that is effective in allowing the police to develop contacts and information that solve crimes. "Simply put, we need to restock our police department," he said.
Cottrell: He said he would like to see the re-establishment of a mobile police unit, which he found to be very effective when he was growing up in District 5. Such a unit can "move quickly" into areas experiencing a problem, assure residents that police are taking a problem seriously and tell the "bad guys we mean business," he said.
Gould: More police officers are definitely needed, but that alone will not solve the city's crime problem, he said. The city needs to create more high-paying jobs that will put people to work and reduce the number of people who commit crimes. Joliet also needs to "take a little pride in our town," and clean up broken windows, garbage, weeds and other things that give the town the image of a place that doesn't care.
Mudron: He said he believes the solution starts with talking to the experts – the police chief and his officers – about what they think is causing the problem and what the solution should be, and then working to implement their suggestions.
Gerl: He said he's definitely committed to hiring more police officers, but sees crime as being a "deeper-rooted problem" that can't be fixed by law enforcement alone. Education and job training are key to helping people get away from lives of crime, he said.
Polikaitis: "One of the city's primary responsibilities is to provide a strong police department," he said, and he's a big supporter of Joliet's Neighborhood-Oriented Police Team. Beyond that, though, the city needs to make creating "economic opportunities for people" a priority so that residents aren't in a position to see opportunities in crime.
Contact Karen Sorensen at Karen@TheTimesWeekly.com.