Four shot at going-away party for prison-bound convict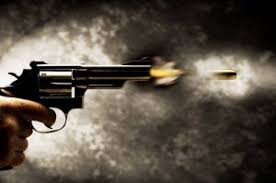 Four men were shot shortly before midnight Friday during a fight at a Joliet Township party for a friend soon to start serving a state prison term, the Will County Sheriff's Office said.
Sheriff's deputies were called to the area of Gardner Street and Nowell Avenue about a possible shooting, and found Joliet police had pulled over a car in the 900 block of Gardner that was en route to the hospital with two shooting victims inside, sheriff's office spokeswoman Kathy Hoffmeyer said.
The victims -- a 20-year-old shot in the hand and a 19-year-old shot in the hip, both from Joliet -- told deputies they'd been at a party in the 800 block of Sherman Street when the shooting took place, Hoffmeyer said. Both men were transported by the Joliet Fire Department to Presence St. Joseph Medical Center in Joliet.
At the Sherman Street house, deputies were told a fight broke out during a dice game being held in the basement and that two Chicago men had pulled out handguns and started shooting, Hoffmeyer said.
The men were part of a group of seven who came to the party from Chicago, and were not known by local people attending the event, she said. The party invitation had been advertised on Facebook, Twitter, Instagram and SnapChat, she said.
The seven men were gone by the time deputies arrived, she said.
When the deputies arrived at the hospital to interview the shooting victims and other people at the party, they learned that two other men were being treated for gunshot wounds. A 17-year-old man was shot in the hand and an 18-year-old man was shot four times in the area of the groin and abdomen, she said.
Both men are from Chicago. All four victims are expected to survive, Hoffmeyer said.
The case remains under investigation by the sheriff's office.
Contact Karen Sorensen at Karen@TheTimesWeekly.com.