18 Groups to receive $353,100 in Grants Thanks to Veterans Cash Lottery Ticket Sales
3/25/2015, 10:38 p.m.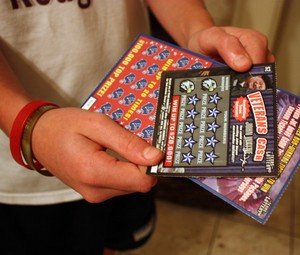 The Illinois Department of Veterans' Affairs (IDVA) today announced a total of $353,100 in grants from Veterans' Cash scratch-off lottery ticket sales to help 18 non-profits and local governmental entities deliver specialized programs and services to the Illinois veteran community in 2015.
"The people of Illinois have a great way of helping our veterans and funding our Veterans Cash grants program continues to make a real and direct impact in the lives of thousands of our Illinois Veterans," said IDVA Director Erica Jeffries. "Thanks to the hard work from our partners at the Illinois Lottery and the leadership of Governor Rauner, we have funds to help the groups and agencies selected to help our veterans."
Veterans Cash has funded programs for veterans throughout Illinois since its 2006 and to date has provided over $12.5 million in grants to over 220 organizations. Proceeds from lottery ticket sales are deposited into the Illinois Veterans Assistance Fund, making it the first Illinois Lottery ticket for which 100 percent of net proceeds are dedicated to support Illinois veterans.
The 2015 grants have been awarded to the following organizations:
Grant 450: Thresholds (Veterans Project) for $10,400 to purchase network computers and cell service.

Grant 452: Veterans Assistance Commission – Lake County for $10,000 for providing dental assistance to veterans.

Grant 456: Salute, Inc. (Emergency Financial Assistance Program) for $20,000 to provide emergency financial assistance for veterans.

Grant 457: Neighborhood Housing Services (Homeownership for Heroes Initiative) for $8,500 to provide educational materials, participant credit reports and marketing materials.

Grant 458: Lutheran Social Services (LSSI Legacy Corp) for $10,000 to provide background checks, general office supplies and resource materials.

Grant 459: Chicago Botanic Garden (Horticultural Therapy Program) for $20,000 to provide a horticultural therapist and supplies and materials to support the horticultural therapy programs at veterans' medical centers

Grant 463: Community Action Partnership (Weston House Veterans Program for $50,000 to renovate and furnish three condos to be used for transitional veteran housing.

Grant 464: National Vietnam Veterans (Veterans' Creative Arts Therapy Program for $6,000 to provide art supplies for the VetCAT and Transforming Trauma program for veterans.

Grant 460: A Safe Haven Foundation (Homeless Prevention Project for Veterans Program) for $30,000 to provide emergency assistance for veterans consisting of utility payments, security deposits, and rental fee assistance.

Grant 461: Partners in Charity (Suits for Boots) for $25,000 to provide counseling sessions and general office supplies.

Grant 462: Midwest Shelter for Homeless (LCpl. Nicholas Larson Transitional Housing Program) for $12,000 to provide vehicle maintenance and program supplies.

Grant 465: America Cares Too (Food Pantry) for $5,000 to provide food bags to be distributed to homeless and low-income veterans.

Grant 466: National Able Network (The Bunker Incubator NFP Inc.) for $9,500 to facilitate Weekly Founder Braintrust sessions and for Bi-weekly / Bunker mentor sessions with "ride-along" advisors.

Grant 468: Health & Disability Advocates (Veterans Program) for $3,700 for printing, copying, and for training and equipment.

Grant 469: Veterans New Beginnings (New Veterans New Beginnings Home) for $14,000 to provide computer equipment, materials and supplies, and assist with transportation costs.

Grant 470: American Legion, Dept of IL (Veterans Affairs and Rehabilitation Program) for $50,000 for veteran service officers' salaries.

Grant 471: Bravehearts (Equine Assisted Therapy Program for Veterans) for $29,000 to purchase hay, grain and supplements, bedding, and assist with barn operating costs; providing therapy sessions for veterans.

Grant 473: United States Veteran Art (Expressive Arts Therapy Group Program) for $40,000 to provide art and painting supplies, mosaic and adaptive equipment, and woodworking/ leatherworking supplies.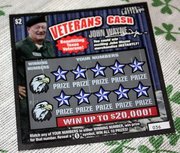 The $5 Veterans Cash instant tickets (game #977) are currently available at about 950 retail locations across Illinois. There is one top prize of $250,000 in Veterans Cash remaining to be claimed. The Lottery has raised over $12.5 million for Illinois Veterans groups to date. Veterans Cash instant game proceeds exclusively benefit Illinois veterans, and are provided as grants to dozens of groups that provide vital services to, and in many cases employ, Illinois veterans. A series of videos highlighting some of these groups can be found at http://mobile.illinoislottery.com/en-us/Specialty_Tickets/VeteransCash.html
On a quarterly basis, IDVA's Veterans Cash Grant Committee (VCGC) reviews applications and awards grants to groups that help veterans address challenges associated with employment, PTSD, homelessness, health insurance costs, long-term care and disability benefits. To date, nearly 219 organizations have shared more than $12.5 million in funding. The VCGC reviewed a total of 27 grants at the February 25, 2015 meeting. The 18 non-profits and local governmental entities selected to receive grants proposed to deliver specialized programs and services beneficial to the Illinois veteran community in the coming months.
The IDVA welcomes Veterans Cash Grant applications from non-for-profit organizations, Veteran Service Organizations and services that help Illinois veterans in one or more of the following six categories: Health insurance costs; Long-term care; Post-traumatic stress disorder (PTSD) research or treatment; Disability benefits; Housing assistance; or Veteran employment and employment training.
To ensure equitable distribution of resources, the IDVA encourages those organizations that have not previously sought a grant to consider doing so in their next cycle, which ends on May 13, 2015.
To apply for a grant, please visit www.illinois.gov/veterans/programs/Pages/veterans-cash.aspx to download an application at the Veterans Cash website.