18 Groups to receive $353,100 in Grants Thanks to Veterans Cash Lottery Ticket Sales
3/25/2015, 10:38 p.m.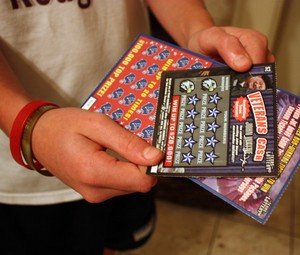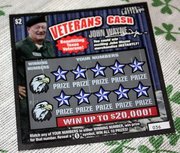 The $5 Veterans Cash instant tickets (game #977) are currently available at about 950 retail locations across Illinois. There is one top prize of $250,000 in Veterans Cash remaining to be claimed. The Lottery has raised over $12.5 million for Illinois Veterans groups to date. Veterans Cash instant game proceeds exclusively benefit Illinois veterans, and are provided as grants to dozens of groups that provide vital services to, and in many cases employ, Illinois veterans. A series of videos highlighting some of these groups can be found at http://mobile.illinoislottery.com/en-us/Specialty_Tickets/VeteransCash.html
On a quarterly basis, IDVA's Veterans Cash Grant Committee (VCGC) reviews applications and awards grants to groups that help veterans address challenges associated with employment, PTSD, homelessness, health insurance costs, long-term care and disability benefits. To date, nearly 219 organizations have shared more than $12.5 million in funding. The VCGC reviewed a total of 27 grants at the February 25, 2015 meeting. The 18 non-profits and local governmental entities selected to receive grants proposed to deliver specialized programs and services beneficial to the Illinois veteran community in the coming months.
The IDVA welcomes Veterans Cash Grant applications from non-for-profit organizations, Veteran Service Organizations and services that help Illinois veterans in one or more of the following six categories: Health insurance costs; Long-term care; Post-traumatic stress disorder (PTSD) research or treatment; Disability benefits; Housing assistance; or Veteran employment and employment training.
To ensure equitable distribution of resources, the IDVA encourages those organizations that have not previously sought a grant to consider doing so in their next cycle, which ends on May 13, 2015.
To apply for a grant, please visit www.illinois.gov/veterans/programs/Pages/veterans-cash.aspx to download an application at the Veterans Cash website.