Bob O'Dekirk sworn in as new Joliet mayor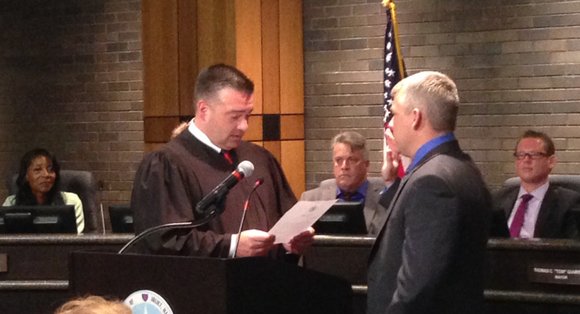 It was an emotional night for the Joliet City Council Monday as outgoing Mayor Tom Giarrante choked back tears saying goodbye to staff and friends and incoming Mayor Bob O'Dekirk worked to rally the troops for the work ahead.
O'Dekirk was sworn in to office as were returning council members, Larry Hug in District 1, John Gerl in District 3 and Terry Morris in District 5 and newly elected council members Pat Mudron in District 2 and Bettye Gavin in District 4.
Gavin was appointed to her seat last year, and won election to a four-year term in April; Mudron succeeds O'Dekirk, who gave up his seat to run for mayor.
Their oaths of office were witnessed by a standing room-only crowd of family members, friends and campaign staff.
The new council's first official meeting will be Tuesday night, and O'Dekirk encouraged council members to embrace discussion and debate but to come together as a group after a decision has been made.
"There has been talk about disagreements over the last four years, and it was true, there were many," O'Dekirk said. "I'm not going to criticize my peers because I believe disagreement is good, I believe disagreement over policy issues is important. That's how you reach the right conclusion."
That said, he stressed he would not be voting on issues as Giarrante did but serving as a tie-breaker in those cases where the council is divided.
His goal, he said, was to empower the council and let members set the agenda.
And his job, he said, is to help people come together for the greater good, a great example of which is the Men of Valor 2 group, which has been holding prayer walks in an effort to unify the city and put an end to the gun violence that has plagued some neighborhoods.
He participated in one Sunday that targeted the Forest Park community on the city's northeast side, an area known to some as "The Hill," where O'Dekirk once worked as a Joliet police officer.
"It's my promise to the people of the city of Joliet going forward, both on the East Side and the West Side, that I will do what I can to do the same, to bring people together and to work together to achieve what's good for the city of Joliet," O'Dekirk said.
Giarrante departed before the swearing-in ceremony was conducted, but took the opportunity to recount the things he enjoyed and will miss -- and to take a last jab -- in the guise of a joke -- at those who criticized his actions and attacked him during the election.
"I will miss sitting down with the developers and investors who came into the office looking to come into our city," Giarrante said. "Sitting down and talking and bragging about the great city we have and all the terrific amenities we have to offer to get them here.
"There are things and people I'm going to miss. However, there are some things and some people I will not miss," he said, prompting the audience to laugh. "I wish the new council good luck in their deliberations. They have some challenging decisions to make in the next few years."
Contact Karen Sorensen at Karen@TheTimesWeekly.com.