Joliet's last mom-and-pop video rental store closing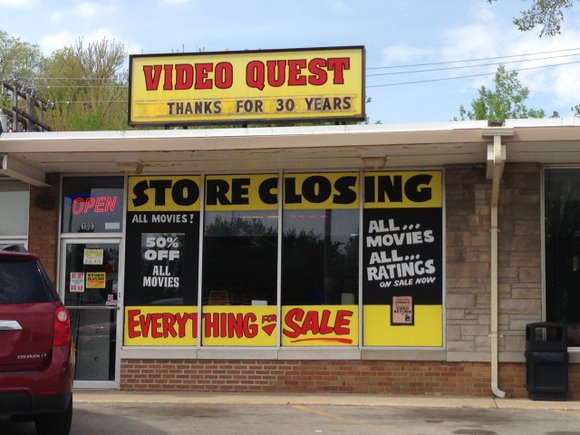 Back in 1985, when watching a video at home became the thing to do, people paid $100 or $200 to join video store "clubs" so they could save a buck or so on the $3.99 one-night rental fee.
Places renting videos started popping up on every corner and not only could you rent the tape cassette itself, you could also rent a Beta or VHS machine to play it on for $15 or $20.
It all seems so antiquated now, looking back on how people willingly paid $300 or $400 for a machine that provided the luxury of watching a movie in your own living room. Some even coughed up $80 or $100 for an especially loved film so it could be watched over and over again.
It doesn't seem such a distant memory for John Kessler, who opened his Video Quest store at 1003 W. Jefferson St. in 1985. His is the last independent video store in Joliet, and when he shuts his doors in June only Family Video, a national chain, and Redbox machines will remain for those who still like to peruse their options and bring home a flick the old-fashioned way.
Kessler is a man of few words, and relatively philosophical about the demise of an industry that he not only broke in to during its heyday but managed to survive when every other mom-and-pop store gave it up and Blockbuster finally threw in the towel.
"Nothing lasts forever," Kessler said. "I've got to find something else to do."
Everything in the store -- from the DVDs on the shelves (VHS tapes are ancient history) to the shelves themselves -- is being sold at 50 percent off. Kessler said he expects the store will be empty by the end of June or sooner.
Kessler had no explanation for why his store held on for as long as it did, but Family Video manager Adam Tindall said the stock in trade at his 2410 Essington store in Joliet is as much customer service as it is the DVDs and video games.
Knowing your patrons' likes so you can let them know when something good comes in, offering five-day rental costs that are cheaper than Redbox or cable pay-per-view, providing special event catering for movie parties and picnic events -- they all build customer loyalty, Tindall said. For every "A" a kid gets on their report, they receive a free movie rental.
Besides, some folks still get a kick out of having a date night or a family outing to pick up a movie or two, he said.
"Most of what we do is custom service," Tindall said. "We take care of people."
While his store has yet to do so, Marco's Pizzas have been added to most of the Family Videos in this area, he said. Not only can people pick up a pizza and a movie, at some point you'll be able to order a pizza and movie online for delivery to your home, Tindall said.
"We are definitely going to find ways to stay (alive), he said.
Contact Karen Sorensen at Karen@TheTimesWeekly.com.