JTHS students win honors, move on to state/national competitions
5/8/2015, 9:52 a.m.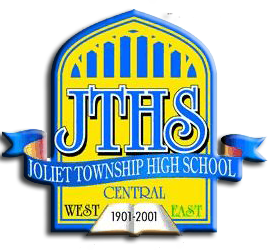 Here's a roundup of news from Joliet Township School District 204:
Joliet West student takes 2nd in journalism competition
Joliet West High School Journalism student Mike Maticka placed 2nd for Info Graphics Design at the IHSA State Journalism Competition held last weekend at Eastern Illinois University. Seventy-five Illinois schools participated in the state finals.
Maticka competed in the category of Info Graphics in which his designs were judged on visual interest, accuracy, news value, and design technique.
JTHS students Krynn Paluga, Abasi Kelley, and Sydney Czyzon also competed at the state level. Students competed in newspaper design, broadcast news, and news writing.
JTHS team advances to state in fishing competition
The Joliet Township High School Central and West Bass Fishing Teams competed in the IHSA Braidwood Bass Fishing Sectional on Friday, May 1, with one team advancing to the state competition.
The team of Sean Cook, Tommy Zobel, John Murphy and Boat Captain Tony Cook captured 1st place and qualified for the IHSA State Tournament to be held at Carlyle Lake in Southern Illinois on May 14-16. The team of Nick Varman, Samantha Varman and Captain Mike Varman finished in 4th place and received a medal. The Joliet Central High School Bass Fishing Coach is Terry Piazza.
The Joliet West team of Drew Landrum, James Blankenship, Joshua Aalders, and Rachel Rowlett limited out and finished in 7th place overall. The Joliet West High School Bass Fishing Coach is John Barber.
Central student a finalist in Sour Patch Kids prom contest
Joliet Central High School Art student Anthony Booth created a 3D sculpture made out of Sour Patch Kids for Nyssa Wilhelmsen's 3D1 assemblage project. He then entered his sculpture into a contest to win a prom ticket and a trip to L.A. sponsored by Sour Patch Kids and is currently contest finalist.
The contest requires that applicants ask their favorite Youtube star to prom using Sour Patch Kids. Booth has entered to win a prom date with Youtube sensation Meredith Foster. His entry is featured on the Sour Patch Kids Promposal home page.
If selected, Booth will win a trip to Los Angeles and an opportunity to meet the celebrity he asked to prom. The trip includes airfare, hotel, transportation and spending money.
The winners will be announced May 9. To view Booth's entry visit: http://sourpatchkids.tumblr.com/
Nine JWHS students place in top 10 in HOSA competition
More than 500 secondary and post-secondary Illinois students interested in health care careers attended the Health Occupation Students of America (HOSA) State Leadership Conference March 4-6 at the Decatur Conference Center. Students attend general sessions, educational symposiums, and compete in over 50 different Health Care related Competitive Events.
Thirteen Joliet West HOSA students attended the conference. They were: Jasmine Candelas, Kyle Garner, Julio Juarez, Andrea Marquez, Kevin Mendoza, Cynthia Mireles, Holly Nies, Izar Olivares, Ashana Patel, Heenaben Patel, Jocelyn Rios, Waleed Sharif, and JulieAnne Tirado. They participated in various competitive events and other conference activities in several of these categories including health science events, leadership events, and teamwork events.
Nine students placed in the top ten in their competitive events, with two students taking first place.
Winners of competitive events are as follows:
Health Science Events (which are Knowledge Tests): Pathophysiology – 1st place – Kyle Garner; Health Care Issues – 1st place – JulieAnne Tirado, and 6th place – Kyle Garner; Medical Terminology – 4th place, Holly Nies; and in Medical Reading – 8th place -Andrea Marquez.
Teamwork Events winners included: Community Awareness – 4th place - Kevin Mendoza and Izar Olivases; and Public Health – 7th place – Izar Olivares, Ashana Patel, Heenaben Patel, and Waleed Sharif.
Students in the top 10 in their events may qualify to attend the national conference while those in the top 3 automatically qualify to attend the conference from June 24 to 27, in Anaheim, Calif.