Bertino-Tarrant proposes term limits for legislative leaders
11/4/2015, 7:02 p.m.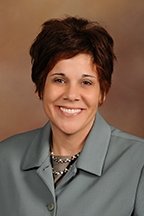 Illinois State Senator Jennifer Bertino-Tarrant (D-Shorewood) is proposing a constitutional amendment that would place term limits on legislative leaders in state government.
"I often hear from people throughout the district that Illinois would be better off if there were limits on how long the Speaker of the House and other legislative leaders could stay in power," Bertino-Tarrant said. "My proposal would prevent someone from making a career out of being a legislative leader."
Under Bertino-Tarrant's plan, legislators could not serve more than 8 years as leader.
These term limits would apply to the Speaker of the House, the Senate President and the minority party leaders in both chambers.
For Bertino-Tarrant's constitutional amendment to become law, it must be approved by the Illinois House and Senate. Then it would be placed on the ballot so the voters could make the final decision on term limits for legislative leaders.