Medical pot being sold in Illinois, but not yet in Will County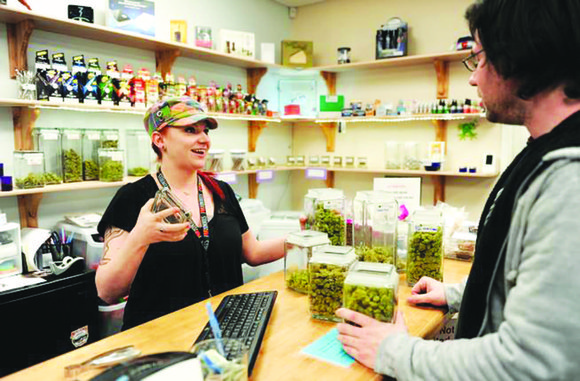 Medical cannabis went on sale this week in Illinois, but patients living in Will County will have to travel some distance to fill a prescription.
Only nine licensed dispensaries were open and ready to take delivery of medical-grade cannabis on Monday despite the Illinois pilot program being approved in August 2013.
The closest locations for Will County residents are in Addison in DuPage County and North Aurora in Kane County.
Other state dispensary locations that were open for business on Monday include those in Mundelein, Canton, Marion, Quincy, Schaumburg, Ottawa and Evanston.
State law governing the cultivation and sale of medical marijuana allows for 60 dispensaries and 22 cultivation centers — one for each state police district — to be located across the state.
The state law, which took effect in 2014 and expires in 2018, allows adults to obtain up to 2.5 ounces of marijuana every two weeks if they are using it to treat one of 40 specified medical conditions.
In Will County, two dispensaries are set to open this fall, one in Joliet and one in Romeoville.
Midwest Compassion Centers plans to open a Romeoville dispensary at 1335 Lakeside Dr. in the Marquette industrial park. The company had already announced a planned location in Shorewood in 2014 before deciding to relocate earlier this year due to their proximity to a planned dispensary 4 miles north in Joliet.
That Joliet location for 3C Compassionate Care Center was set to open at 1627 Rock Creek Blvd. in October according to the company's website though it is not on the list of licensed locations that was set to open this week.
In order to purchase medical cannabis Illinois residents must first be approved by their doctor then file an application with the Illinois Department of Public Health. The annual cost to receive a medical cannabis ID card is $100 for the patient and $25 for their caregiver. Patients who are veterans or are qualified for social security disability benefits can receive a reduced annual fee rate of $50.
According to the state's medical cannabis pilot program website, just over 26,000 state residents have started the patient registry application process since September 2014 with 4,300 having submitted a completed application.
The state announced that it began sending out the 3,300 cards for those patients who have so far qualified at the end of October.
That's a pretty small customer base and could mean that some of those upstart dispensaries will be in for some lean cash flow for a while said medical cannabis advocate Maryann Loncar who runs the non-profit education and advocacy center Mother Earth Holistic Medicine based in Will County.
"I don't know how they're going to make money," said Loncar.
Loncar helped craft the bill that finally passed the Illinois general assembly in 2013 she said after years of petitioning state legislators to act.
She learned about the medicinal benefits of cannabis when she was diagnosed with cervical cancer while she was living overseas. Since then she's educated herself about the drug and its wide-reaching potential to help lessen symptoms for chronic diseases like multiple sclerosis among others.