A 'Magnum Class' Champagne arrives in the U.S.
Wine of the Week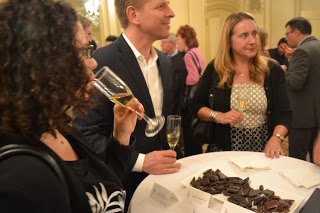 "The best Champagne to hit America's shores in decades," is how Champagne Palmer of France introduced itself to US wine lovers in a whirlwind national tour. Debuting at the ornate and historic Palmer House Hilton Chicago, Export Manager Raymond Ringeval, and Directeur Remi Vervier, made the trip from Reims, France to personally introduce France's best kept Champagne secret. Although hugely successful in Europe, this is the first time that Champagne Palmer is being exported to the United States.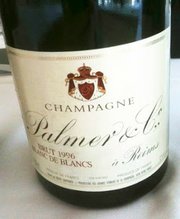 The wines launched included Palmer Brut Reserve ($50), a blend of 50% Chardonnay, 40% Pinot Noir and 10% Pinot Meunier, which is aged 4 years on the lees and 6 months in the bottle after disgorgement (the final step in removing bacterial residue cap, 'the lees' used in fermentation, to create a clear, sparkling champagne). Most champagne houses only age for 2-3 years; Palmer Rose' Reserve ($65), a blend of Brut Reserve with 15% red wine vinified in oak barrels, according to Burgundy tradition, then aged in solera with red wines from previous vintages. Palmer is the only Champagne house to use this method. Its unique vibrant color is only matched by its exotic flavors of pomegranate, ripe strawberries and a touch of vanilla bean, hibiscus and Tahitian nutmeg.
Palmer Blanc de Blancs ($75), is 80% Chardonnay from the top Crus in the Montage de Reims and 20% Chardonnay from the Cote de Sezanne, south of the Cotes des Blancs.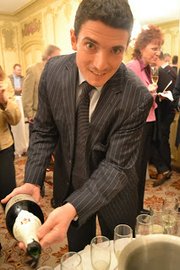 Finally, there's the Amazone de Palmer ($120), composed of 50% Chardonnay and 50% Pinot Noir Reserve. Aged for 12 years and hand riddled according to traditional methods, this is the richest and most luxurious of all. This very special blend is made from the finest Reserve wines of the House and is truly a work of art. With flavors of ripe pear, notes of buttered brioche toast and a hint of hazelnuts, it's an amazing blend of taste sensations that pairs with the must luxurious foods; think lobster. The taste is like a blend of platinum gold and diamonds in a glass!